Yalda Royan · Afghanistan
Women's Rights Activist Must Choose to Stay and Die or Leave and Live
Afghan Women Who Stand for Civil Liberties Face Becoming Refugees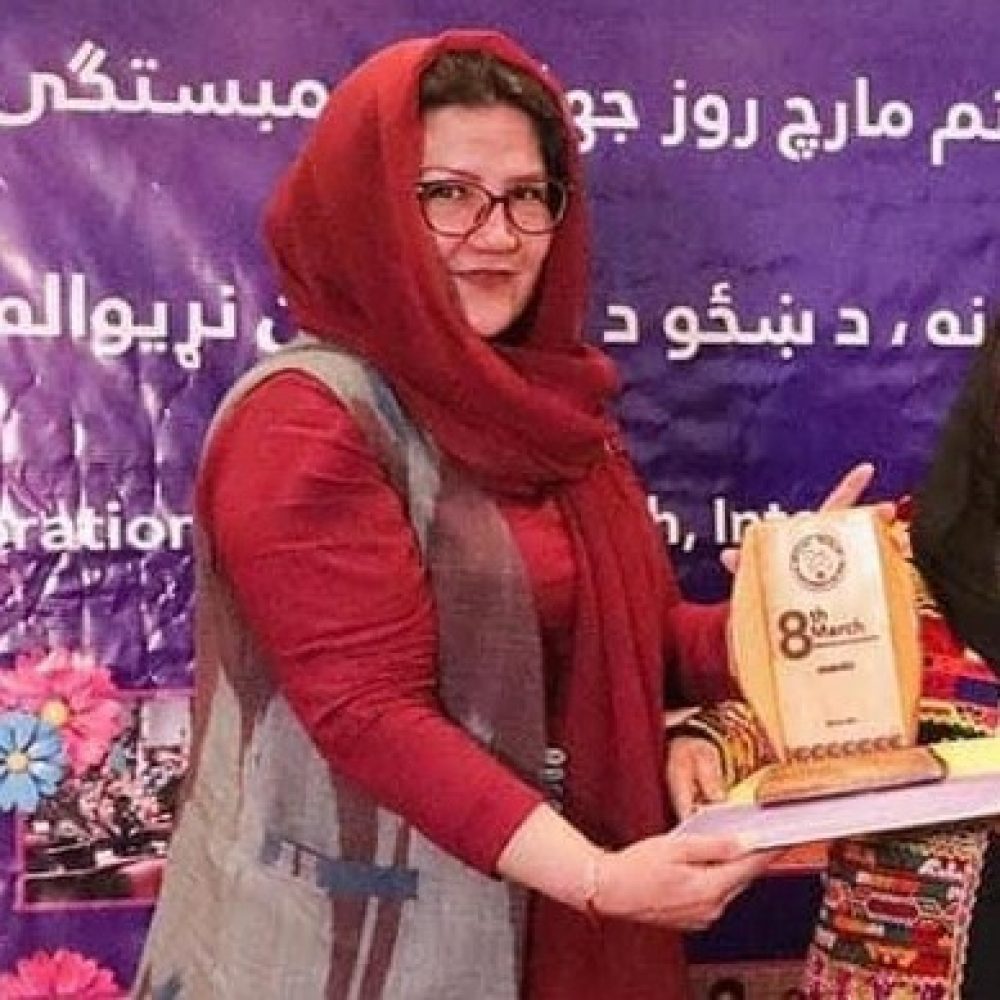 I am Yalda Royan. I'm a women's rights activist.
I have divided my life into before August 15th and after August 15th, 2021. On August 14th, I was a woman who had a job, who had income, who had a house, who had safety, who had social status… On August 15th, I was just somebody afraid of everything.
Currently, I'm working as a community engagement coordinator at the Office of Diversity, Equity and Inclusion in Nova Community College. At the same time, I am a consultant for Voice Amplified, which is a feminist humanitarian organization based in the United States. I have been working with them since 2020 as the Afghanistan country team lead. I'm also a founding member of Afghan Women's Advocacy Group and do advocacy work for the rights of marginalized groups, especially my ethnic community, the Hazara. We are one of the ethnic groups in Afghanistan who have been targeted and have faced violence and discrimination for over 300 years.

Fleeing to Pakistan in the 1990s

I don't remember a time in my life in which I have lived in peace. Even when I was a kid, and I was going to school, there was the Civil War, and rockets were hitting Kabul city.
There have been times that I have been in school when a rocket fell and we had to run home for refuge. I was born in Kabul. I lived there until Kabul became a battlefield and we moved to Ghazni, where my parents are from. But, I was 14 years old when the Taliban took over Ghazni and we had to migrate to Pakistan.

That was the first time the Taliban emerged and Kabul was not safe, especially for the Hazara community.
I did my 9th, 10th, 11th, and 12th grade in Pakistan. Life was not easy there because there weren't any job opportunities for the migrants. We struggled with economic problems, but my family is very much in support of education and we were able to go to a refugee school. I learned English, Urdu and computers. I graduated from school in 1998. There were no higher education institutions for refugees in the area where we lived in Quetta and we couldn't afford the fees of a private, higher institution education. The government schools would not accept refugees. So my dream from childhood to become a doctor never took place. And I couldn't continue my education at that time.
I remember the 9/11 incident perfectly. I was working as a nurse in a private hospital. I came home and had lunch with my brother. We were watching TV when they started broadcasting the attacks live. Later, we found out that the Taliban were gone from Afghanistan and the United States had intervened.
I don't call the United States interaction in Afghanistan in 2001 an invasion. That was a time when the Taliban had invaded Afghanistan, and we needed somebody to save the people who were the hostages under the Taliban's rule. It was an intervention. It was a relief to hear that there was no more Taliban in Afghanistan.
I got married and it was the end of 2002 and we came back to Afghanistan.


Return to Afghanistan
Returning improved my life. At first, you could hardly see a building without the effects of bullets, explosions, or the signs of war in Kabul. But then, gradually, rehabilitation started and the cities changed their faces. The cities were getting more beautiful, more buildings, more construction, and there were a lot of women on the streets. That was a positive sign. Yes. It was a very good start for Afghanistan in 2001.
I didn't have a lot of exposure outside of the home until 2004. In 2004, I started to work for the first presidential election. I was able to travel to some of the districts in Balkh Province, which is a northern province of Afghanistan. It was safe at that time in 2004 to go there and to talk to the people and encourage them to come out and vote. So I was a national field coordinator and my job was to register people for voter registration cards.

It was the first time that I saw an election. So for me, everything was new and everything was exciting. I enjoyed every part of what I was doing. I loved knowing that there was a structure in our country.

Leaving a Second Time
I never decided to leave Afghanistan. I was forced to leave Afghanistan. In June and July of 2021, when we heard of the provinces falling to the Taliban, I started to get worried. I am a single mom affiliated for more than 10 years with the US government or United States Agency for International Development USAID funded projects. I am also a member of the Hazara community. I was eligible for a special immigrant visa for many years, but I never applied for that. I had chances to go outside of Afghanistan to Europe and to other countries, but I never stayed there. My passion has always been to work for my country, and for the women of Afghanistan. But on the 15th of August, when the country fell to the Taliban, I had no choice. If I wanted to stay alive and keep my daughters–teenagers–safe, I had to leave that country.
They told me three days before we left to have a backpack. I told my daughters; they had prepared their backpacks. But to be honest, I never wanted to do that. The things I had inside that home were mine. I had worked, earned a salary, and bought them with my own income and love. No one had helped me. Living alone as a single woman is not easy in Afghan culture. In the end, I had 10 minutes, maybe 15 minutes, to put 20 years of my life in one backpack and leave my home.
Between August 15th and August 18th, I was in hiding. On August 18th, 2021 I became a homeless person without anything: no job, no relations, no friends, no family, no home, no country, nothing. And on the 23rd of August when I landed here, I had changed from someone who was helping others in the beginning of August, to someone who was the recipient of help. This transition wasn't easy. Sometimes, when you change your home, you need time to get used to that. If you lose your job, you need some time to heal or grieve. But for me, I had to grieve for all of these losses at once, at one time, for my house, for my work, for my people. And yet I had to support my two daughters in a new country.

The airport was hell. My daughters and I spent eight and half hours outside the Kabul airport, under the hail of the bullets. We could have been run over by the crowd. We could have been beaten by the Taliban and the security forces around the airport. Eventually, we got inside and spent two more days in an airport hangar.
On the 20th of August, early in the morning, we took a military plane to Kuwait. In Kuwait, there was an American base but Canadian soldiers. They were not ready for us. So in that warm weather of the Arab countries, we were put in buses. We spent six and half hours in those buses without being able to get off. We were only allowed to use the toilet with a soldier escort.
After that they transported us to Bahrain. In Bahrain, the situation was better. We spent two nights and two days there, but I was very, very sick during that time. I had a fever and a throat infection. Somebody knocked on the door of the room we were staying in and they asked us to get ready to leave. I had been wearing the same clothes since Kabul. So I took off those clothes and I put them in a trash bag. I said okay, I will wear my one other outfit, and then maybe even on our next stop I will find something to wear.
But then they told me it's only me, I can't take my daughters.

I'm not going anywhere without my daughters. That base was safe, it was clean, it had food, but there was no communication means, no internet, our phones were not working. And I said, "I have left my country because of my two daughters, and I'm [not] going to leave them here." He said, they would bring my daughters to me. But I insisted we go together. I went back, took my clothes back from the trash bag and put them back on. Every time I remember this, I laugh and I cry at the same time.
Later that night, they got us on a plane all together. But we never knew where we were going until we were in the air. In the air they told us we were going to Bulgaria and would stop for four hours. When we took off again, they told us we would land in Dulles.
Everything about being a refugee is difficult. I didn't have money in the beginning when I came. I didn't have a place to live. I didn't know the system. I didn't know my status here. I didn't have a car to move from here to there. I didn't know how to use the public transport here. Everything was new. So, on one hand, I had gone through that trauma and shock and on the other hand, I was dependent on others. Even when I had to go grocery shopping, I had to ask someone to take me to the shop.
We are not refugees or migrants here for a better life. We had to choose to stay in Afghanistan and die or take refuge in a second country to live. This migration wasn't our choice. It was imposed on us and we were forced to leave our country and our home. So don't think that we are here, as I said, for a better life. I mean, for me, a better life would be back in my home if I was among my people, in my own apartment, and I could speak to my people and support my fellow women.

This country, this country is beautiful, it has everything that a person wants, but it's not my home. The day the Taliban are no more in my country, the next day, my flight will be booked.

Informed Consent
Our team members obtain informed consent from each individual before an interview takes place. Individuals dictate where their stories may be shared and what personal information they wish to keep private. In situations where the individual is at risk and/or wishes to remain anonymous, alias names are used and other identifying information is removed from interviews immediately after they are received by TSOS. We have also committed not to use refugee images or stories for fundraising purposes without explicit permission. Our top priority is to protect and honor the wishes of our interview subjects.