Their Story is Our Story Announces Launch of Global Refugee Archive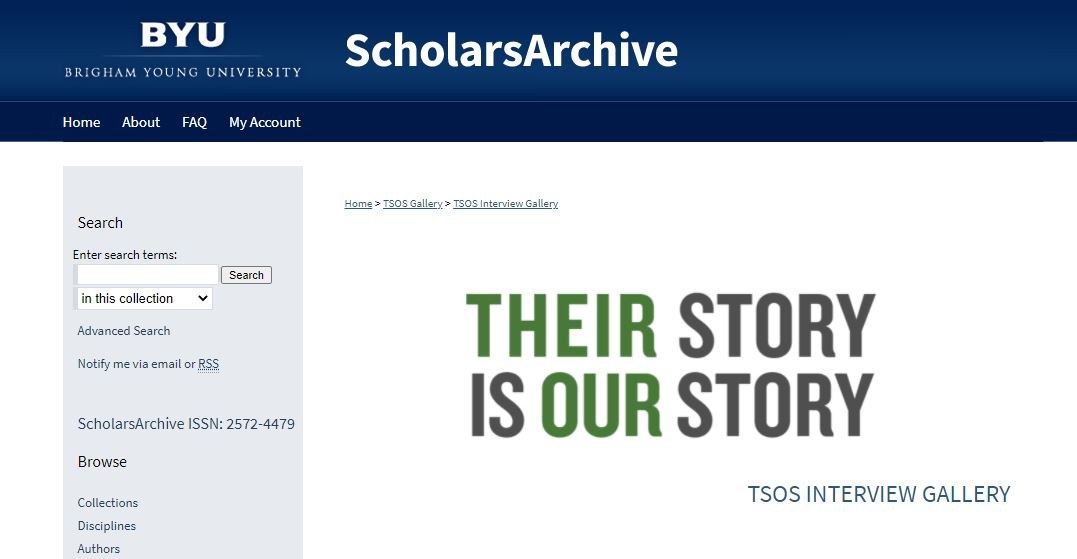 Salt Lake City, UT - October 18, 2021 - Their Story is Our Story (TSOS) today announced the launch of the Global Refugee Archive, a database of refugee stories from around the world. The archive is housed at Brigham Young University's Harold B. Lee Library ScholarsArchive and is available to the public, academic researchers, and humanitarians alike.
"The launch of the Global Refugee Archive is the culmination of over four years of effort. We are thrilled to have the support of Brigham Young University in establishing this resource," said Kristen Smith Dayley, Executive Director at TSOS. "Stories change us and they broaden our own lived experiences. There is no more powerful way to open minds and hearts."
"The overarching goal of the Global Refugee Archive is to preserve incredible stories of triumph and inclusion while closing the gap between 'us' and 'them.' When personal stories are shared, it changes the perception and reception of incoming refugees. The Archive will allow scholars of all ages and interests to fill in the sterile research facts with real, human experiences," said Robin Peterson, Director of Archives at TSOS.
"As the entire world watched as Afghanistan fell to the Taliban, stirring up the desire to help and understand the plight of hundreds of thousands of Afghans evacuating, as well as the countless others remaining behind Taliban lines, releasing the Global Refugee Archive to the public is not only critical but paramount, to comprehend such crises on an individual level," Peterson said.
"Although initiated with interview materials collected by TSOS, other organizations are invited to contribute stories to the Global Refugee Archive," said Dayley. "In so doing, the Archive will become an important tool for preserving, protecting, and disseminating personal accounts collected by groups around the world."
The ribbon-cutting ceremony for the Global Refugee Archive will take place on Thursday, October 21, 2021, at Brigham Young University's Harold B. Lee Library. In support of the launch of the Archive, TSOS is presenting a lecture series, "Displacement Today," on October 21-23, 2021 at Brigham Young University and Millcreek Community Library. For additional detail and information on how to participate, please visit the lecture series webpage.
About Their Story is Our Story:
Their Story is Our Story (TSOS) is a 501(c)3 non-profit organization dedicated to sharing stories of the refugee journey to advocate and educate and to actuate integration. For more information, visit www.tsosrefugees.org.

Media Contact
Director of Marketing and Public Relations
Other Posts
Just as citizens in Europe and the U.K. have heroically supported displaced Ukrainians by opening up their homes or securing other housing, assisting with school enrollments, employment needs, and language learning, Americans now have the opportunity via the Welcome.us Sponsor Circles program to directly help newly arrived Ukrainians. The United States has committed to welcoming 100,000 Ukrainians temporarily for a period of two-years and the ability to apply for employment authorization in the U.S. as long as they have a U.S.-based sponsor to petition for them.
January 31, 2023
When I was in high school, I was fascinated by geography, and it struck me that there was a highway that I could hop on in my car and drive all the way down into South America. As an imaginative young girl growing up on the Texas-Mexico border, the idea of a road that could take me from my sleepy border town, Laredo, Texas, to the edge of the world in South America, left me awe struck. In high school I learned that this highway is called the Pan-American Highway.
January 9, 2023
Egette was born and raised in a refugee camp in Tanzania, Africa. In 2021, she graduated with a B.S. in psychology from George Mason University. In 2022, she received her MA in psychology with a focus in Cognitive and Behavioral Neuroscience, also from George Mason. She was recently featured in Forbes on World Mental Health Day. She founded Safe Haven Space, to empower and educate refugee families in the US about mental health and wellbeing.
November 30, 2022
Sign up for email updates