Sayed Matin Hussainy · Afghanistan
Pushing Forward and Seeking Virtue When Life Takes a Turn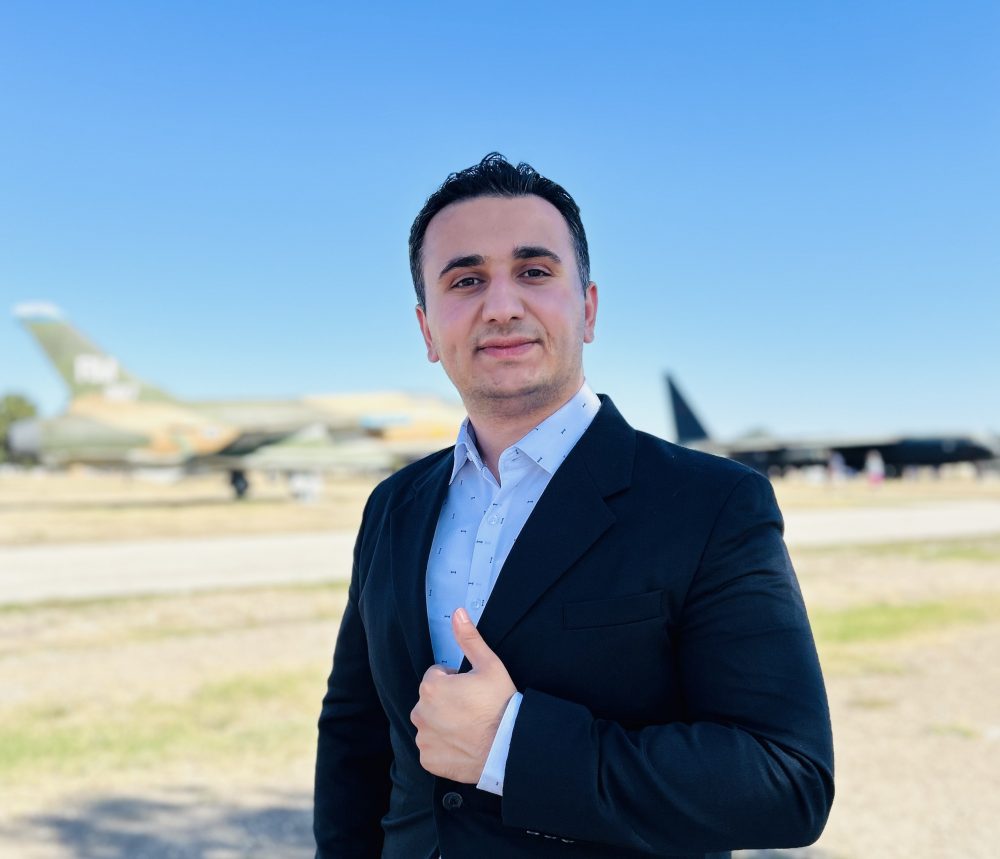 We are a generation of change. Real change is when we are able to take the things we learn, and turn them into actions for the good of humanity.
I was born in Herat city, in Afghanistan. Thankfully, I was born and raised in an educated family. My father and my mother, they were educated people. It was my dream to become a scientist, and I was very passionate about my studying. I had one teacher in particular who taught high school Chemistry, he was very supportive of me. When he was sick or had to miss school, he would ask me to go to his class and teach in his place. Chemistry was one of the hardest subjects because new textbook editions came out often, but I loved that.
When I was ready to go to university, I was offered two different scholarships; one to a school that focused on medicine and engineering, and the other to a business school in India. I ignored the first scholarship because I really wanted to study outside of Afghanistan and it made me excited to have a scholarship in business. Unfortunately, they never gave me the scholarship. This was very disappointing because I knew it was a result of the corrupted education system in Afghanistan, who sold the scholarship to someone else.
Despite this educational adversity, I felt I could move forward in my studies. Much of my motivation came as a result of my supportive parents. My parents are my heroes. My dad passed away in 2014 when I started university. I knew at the time that without the support and dedication he had given to my family, I never would have made it as far in my education. He and my mother supported us a lot, even when it was financially burdensome. They were both educated, so they prioritized education for us and did their best to give us as many opportunities as they could.

After my father passed away, it changed something in me. I wanted to become the man my father wanted me to be....I decided I would find ways to put on social activities, rather than focus too much on books
One key social activity I began was organizing a student parliament to advocate for and practice democracy. We wrote a parliament policy and even had plans to hold an election amongst ourselves. I had help from several other students and various faculty members; it took two years to complete the handbook. After putting all the work in, I found out that my university wouldn't let me complete this project and continue the social group, because it was a safety risk. Unfortunately, in my university, many extremists were active. The Taliban were active, the local extremists were active. In the end, I put on an event where I gathered students from two different universities. We spent the day discussing the current political and economic situation of Afghanistan. I really loved that day, even though it was the end of the project.
Although my first project wasn't able to continue, I stayed active in debate and leadership throughout university. I was very sad that my university wasn't supportive of my passion for political discussion, but I read many books and grew interested in various other topics. I had a friend at university who was starting a project called the Hult Prize Competition, and I wanted to be a part of this with him so I became the executive director. This competition sought business ideas which focused on pressing issues such as food insecurity, global warming, or employment. The projects submitted were sponsored by business schools in the US and the Hult Foundation in Boston. I was able to find more success in this project, as it was deemed safe and secure by the university. This project grew for a few years and even spread to other universities. My university was even able to organize an international event. I'm very proud of this project because it allowed students to find business opportunities in different countries.
During my last year at university, I started looking into jobs. I decided it would be safer for me to focus on finishing my studies and my books, rather than put more energy into social activities that revolved around democracies. It was becoming less and less safe to discuss politics because the Taliban was active and I felt I didn't have protection. With the things I had learned about business, I felt confident enough in starting my own. It was a travel agency and I found success in helping customers book tickets or organize trips. This lasted until the beginning of the Covid-19 pandemic, when a new work opportunity arose. I applied to be a travel assistant for the US embassy in Afghanistan. In the last year of my university studies, and the few years that followed, I decided to be active in my political views. I went to different national conferences and submitted proposals, and enjoyed working with the US embassy. Much to my dismay, my efforts came to an abrupt halt when the Taliban took over.
For more information about Afghanistan, visit our Featured Issues page on Afghanistan.

Informed Consent
Our team members obtain informed consent from each individual before an interview takes place. Individuals dictate where their stories may be shared and what personal information they wish to keep private. In situations where the individual is at risk and/or wishes to remain anonymous, alias names are used and other identifying information is removed from interviews immediately after they are received by TSOS. We have also committed not to use refugee images or stories for fundraising purposes without explicit permission. Our top priority is to protect and honor the wishes of our interview subjects.