Sayed Matin Hussainy · Afghanistan
A Forced Journey - Alone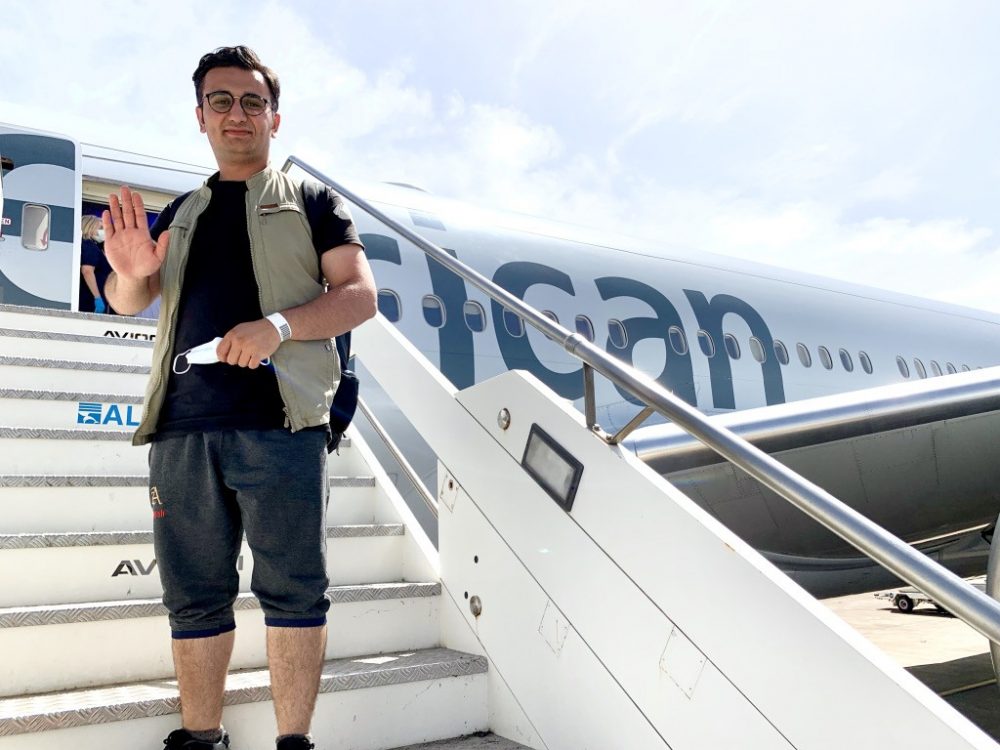 When the Taliban took over I went to the airport. I had with me a suitcase and it had 20 books inside, they were all books on leadership written in English. These books were my friends.
I knew it was risky to take books with me to the airport. My brother told me "hey, they will kill you if they capture you with these books". I replied to him saying "the Taliban doesn't care, they just want to kill". I wasn't sure if the Taliban was going to search my things because I had heard that they weren't disrupting civilians. I made it safely to the airport on a three-wheeled motorcycle and when I got there it was very crowded. All the flights had been canceled. Everywhere; canceled, canceled, canceled.
As I was navigating through the airport and trying to get to my flight I ran into a friend who was also trying to leave. She was very distressed because she said her flight was canceled and she was being told to go home. Although I did not have much time before my flight, I tried to help her but I didn't have much luck. I had to leave to take my flight, which landed in Kabul. The Taliban hadn't yet gotten to Kabul, which is why my flight was able to arrive there safely. A few days after I arrived, I heard that the Taliban took over the whole city of Herat and the government had fallen. It was so sad for all of us. I was calling my family and they were staying in one room trying to stay safe. They said that there was a lot of shooting going on outside because of the Taliban. It was a very scary night for them. We all prayed.
Shortly after, I got my badge number from the embassy and they told me to stay where I was. I was confused and I asked "why, is there no one at the embassy"? They responded to me and said most American and other foreign employees had left and were working from home. In Kabul, the government fell and the Taliban created a terrible mess. I was never at the embassy or near the presidential palace. In fact, I went to several different places because I was trying to hide from the Taliban.
In an embassy group chat, it was announced that the Taliban was starting to chase embassy employees, which included me.
I had helped with the embassy's travel plans through my business. The embassy was trying to help us find a way to leave, and one day I finally received an email with a visa to leave Afghanistan.
I had to go by myself. For safety reasons, I had to travel to the airport alone. When I got there I saw crowds of people who were trying to leave and get to America, but they likely didn't have the right documents. There was a troop of former Afghan commanders and I wanted to show them that I had the proper documents to be able to leave. One of the commanders started beating me with his gun. It was so scary. I started running. I kept running and running, even though it was a hot day and I had a long overcoat on. I was running through a battlefield. There were shots ringing in the air and no one cared who got shot. I was left with no entrance to the airport. This was extremely disappointing. I was also disappointed because I knew I had to be alone. At first, I had received a message saying I could take my family to safety with me, but then the embassy told me that they had been misinformed and I had to be alone. I was nervous for my family because it had also come to my attention that the Taliban might chase people who were related to me, because I was an employee of the embassy.
The toughest decision I ever made came two weeks after the government fell down. The embassy communicated to me that there was fast transportation for me to take to get out of Afghanistan, they had made an arrangement with the Taliban. This was a difficult decision. I left my mom and siblings, I left my dreams, my entire life. I left with a group of people and we were granted access to the airport and transportation which would take us out of Afghanistan. That night when I left, I saw a colleague who had his pregnant wife and two children. We all shared a blanket and slept on the ground. Throughout the night, people were waking up and discussing their families, and all of the things they had sacrificed and left behind.
The next morning I flew to Qatar. In Qatar I met a family who knew my brother. They recognized me and asked me to stay with them because they were going to travel to a different military base a few days later. For the next few nights, I felt like I had absolutely no energy. I didn't eat any food and I was so tired. I then traveled with that same family to a base in Italy. There, I started helping the evacuation committee and the hospital committee. I had never lived in a military camp before, so I tried to keep busy. I was always out, helping in whatever way I could. One night, I stayed up to remind people about their flights, and help them figure out where they needed to go. It was actually a pleasure for me to do that; I just wanted to help people.
This was a really hard time for me, and I felt very depressed.
I knew that I shouldn't isolate myself or I would be more sad, so I wanted to connect with others. After spending a little over a week in Italy, I was able to travel to the United States. Throughout the flight, I helped the flight attendants translate their announcements into Dari and Pashto.
At the end, they gave me a thank you card and called me a hero. This meant a lot to me.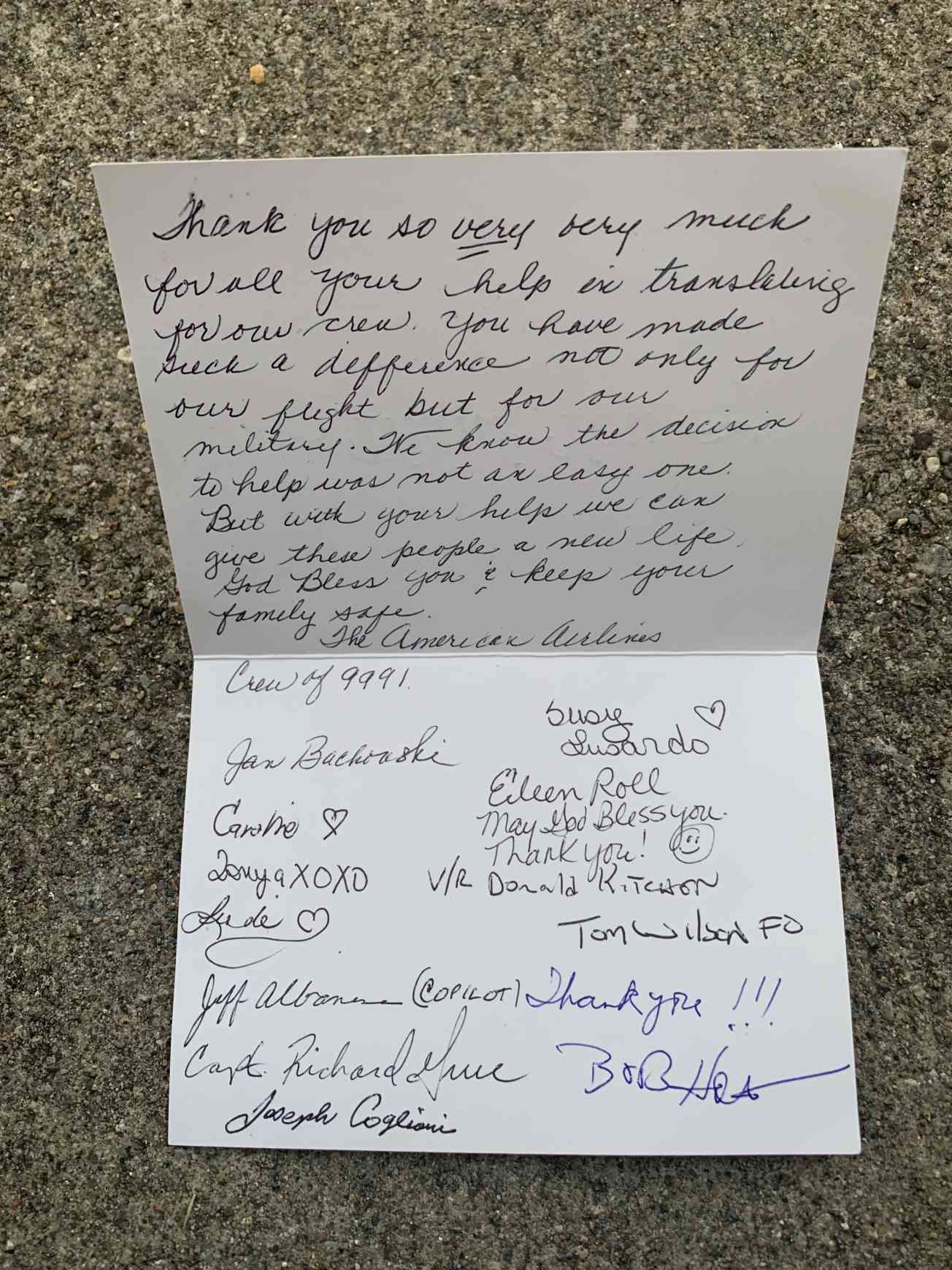 Informed Consent
Our team members obtain informed consent from each individual before an interview takes place. Individuals dictate where their stories may be shared and what personal information they wish to keep private. In situations where the individual is at risk and/or wishes to remain anonymous, alias names are used and other identifying information is removed from interviews immediately after they are received by TSOS. We have also committed not to use refugee images or stories for fundraising purposes without explicit permission. Our top priority is to protect and honor the wishes of our interview subjects.