Sayed Matin Hussainy · Afghanistan
Hard Days
An Afghan Man's Mental Health Journey After His Arrival in the U.S.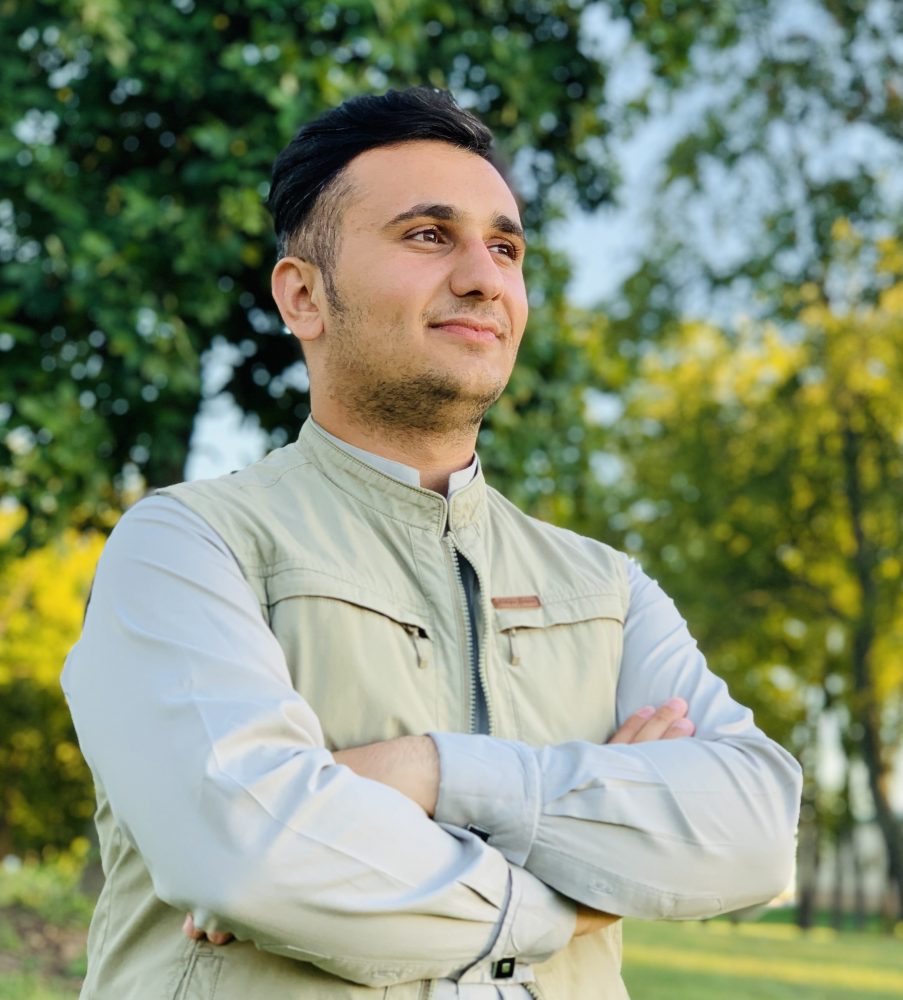 My father had advice that I will never forget. "Today maybe is not a good day for you. But tomorrow will be your day. Do not lose your dignity and maintain your hope."
I spent two months in Indiana at Camp Atterbury. At one point about 7000 people were in the camp but the population of the city was 4000. They just weren't prepared for that many people. At first there wasn't enough food. I have pictures of the line. I got in the line at 6am and at noon, I entered the kitchen. For the first time in my life I was living with 30 people in one room with no privacy.

Those were hard days for me. I couldn't sleep in the camp. Everything was a different experience and a very, very hard one. I hadn't imagined that. It was lonely, even surrounded by Afghans.
I was sick with the need for a hug. Nobody was there to hug me.

I had no control over anything. I wanted to help the people still in Afghanistan. I started speaking with the USAID support team, but they couldn't help and the stress went higher and higher. All I could do was pray.
One day I completely lost my concentration and I didn't know where I was. I didn't know if I was in the air or on land. My mind was overwhelmed. I called the USAID support team and asked them to come because my situation was very bad. And they came.
They moved me to the hospital inside the camp and I started meeting with a therapist. I told her that I didn't know what was going on, I just lost control of myself. She taught me how to take control back. She gave me a notebook and a pen. And she said to write down every challenge that was in my mind right then. From my family to myself. Then I was to write down every possible solution, and evaluate each of them. She told me to do as much as I could, and if I couldn't do something to write down my feelings about it. She wanted to make a connection between the challenges, the overwhelming feelings, the trauma, and myself.

She wanted me to speak with the trauma, speak with the challenges, speak with everything that was going on in my head. And I can say that it helped.

My mind was one minute in Afghanistan. One minute in America, in the camp. Writing helped me to organize it. She listened to me, and she tried to help me to calm down and not think too much about what I couldn't do.
My friends would ask me why I was going to a therapist. "Don't go. We'll help you." But I knew the therapist had the expertise. It's not about friendship, it is about expertise. It's important to get help from someone with experience and training.
I think that all the people new to the US and having experienced trauma would need mental help. And let's be honest together. If, for example, an American lost everything in one night and had to go to Afghanistan. Or some country where everything is different…What will happen to that person? They will be sick.
While I was struggling with my mental health I met a family, a husband, a wife, and a little kid.
The wife of the family was struggling with her mental health. You could see the serious problem in her face. The husband came to me for help. They lost their two little children in the rush of the airport, leaving Afghanistan. They were here, their kids were in Afghanistan. One of his kids has a genetic mental health problem. He can't say when he's hungry. The other child was a girl. They were both little, three and five or something like that. I started to try to help him although I was also sick.
One day, a support team from USAID came. I got the family to their office headquarters. I arranged that meeting for them and the dad started to explain. I translated for him. While I was translating the woman passed out and the meeting did not work. I said, "I want to at least try one more thing. Let's email." So I spent four or five hours writing an email. I would write and delete over and over. In the end, it was a very good email. I wanted to describe the situation of the mother: how it feels to be a mother apart from her young kids. They circulated this email to all the USAID teams in Washington, DC. And we got a lot of replies.

They said they would help. That their kids would come here soon.
Oh my god. I was very happy. They were more than happy! It still took seven months.
That was a really big shift. The joy I received from that, it helped me more than anything in the camp. I became very proud of myself for what I did - actually what God did. I was just a connector between these two things.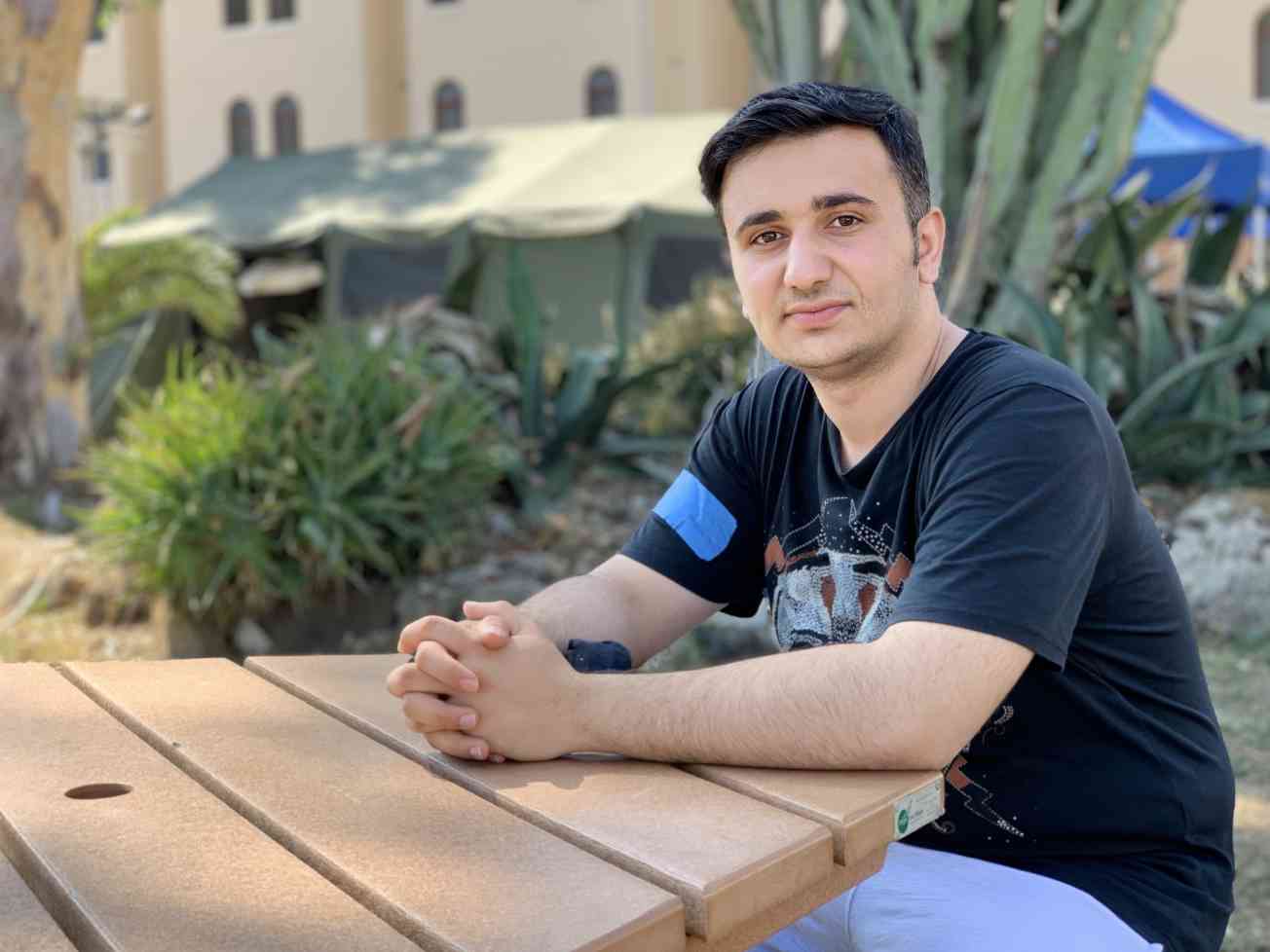 After the camp, I ended up in Massachusetts but I felt very alone.
The first day I walked in the street it was like - like a jungle. I was in the jungle. I wanted to run to my resettlement agency, I was scared to be walking alone and I was the only one who walked in the street. It felt like someone might start shooting at me.
After the first couple of days, I went to a library. I spent all day there. After midnight, I was in the library with my friends, the books.
I tried reading accounting books because I was researching jobs. I sent a lot of emails to different organizations. I had my cousin in Virginia, he helped me a lot because I had lost my confidence and he said to me, "hey, I know you, you have a strength in this, this, and this. Just try to get a job in these specific things that you're strong at."
My strengths were business and accounting. I can work with computers, I know how to type. I'm familiar with Excel.
And then I heard from a friend from camp. He had ended up in Florida. He called one night and said, "If you don't get me out of Florida I will maybe do something bad to myself." I told his agent that he was in a very severe shock and that they needed to get him out or they would be liable for what happened. So they sent him to me. I took care of him for almost six months.
I got a job in a new city and I brought him with me. The employer had given me a room and a job. It was in accounting and it was tough. My own mental health wasn't good - sometimes I felt like I was asleep, even though I knew I was typing - and I was taking care of my friend. And the room was in a commercial space, it was just four walls. But I kept moving. My friend got really bad. He had lost everything in Afghanistan. He was a CEO of 500 employees. His wife was in Afghanistan. His kid was in Afghanistan. If I didn't help him, he would deport himself. My head was going to explode.

Because I want to save him, but I couldn't
He couldn't sleep for five days. Finally I sent him to the hospital in Lowell. They treated him very, very well and he was happy.
Eventually, I lost my job and I lost my housing. My employer wanted me to do things that he'd never trained me for and he fired me and kicked me out, even though he'd promised me a year. So I moved back to Lowell with my friend.
Then I decided to have my own company. My passion is business. First, I became certified to sell insurance. My supervisor was very kind, but if you don't sell anything you don't make money, so I was also a cashier at TJ Maxx. There I met a physical therapist and we ended up going into business together.
I got the LLC, that is a lot of paperwork, and an inspection from the health department and all the required licenses. This helped me to become more confident that I could do something in America. We grew our business house to house and now we have a lot of good Google reviews.
I also learned something about taxes. In 2022, a tax company in Virginia trained entrepreneurs to work with their company and I was one of them. I filed taxes for maybe 20 or 25 people last year. The next year, I started a business. I gathered all of these services: insurance and tax under the brand name Kabul-Boston. Kabul is the capital of Afghanistan and Boston is the capital here. So I made a Kabul- Boston Consulting Company. I serve a lot of Afghans and they love it.
So now it's 2023 and I'm working on making some educational videos for my community about insurance because we didn't have insurance in Afghanistan. And they need education.
I want to hire more than 100 people.

I have this capacity to make a part time job for 100 people and it can help them to earn some money. So I'm trying to help as much as I can. And I'm trying to educate myself as much as I can.

Informed Consent
Our team members obtain informed consent from each individual before an interview takes place. Individuals dictate where their stories may be shared and what personal information they wish to keep private. In situations where the individual is at risk and/or wishes to remain anonymous, alias names are used and other identifying information is removed from interviews immediately after they are received by TSOS. We have also committed not to use refugee images or stories for fundraising purposes without explicit permission. Our top priority is to protect and honor the wishes of our interview subjects.