February 6, 2021
Dignifying Receiving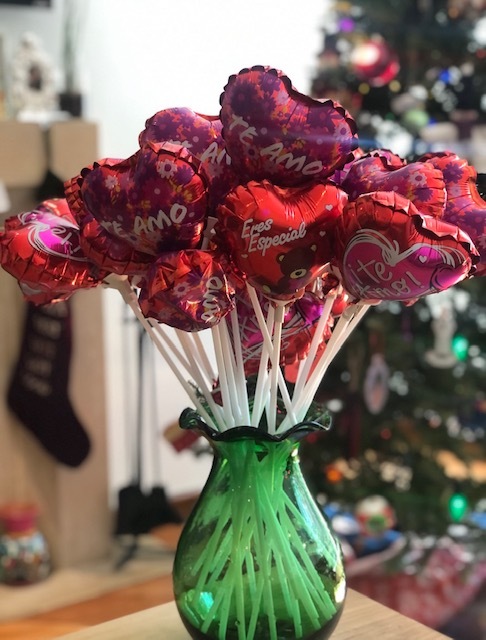 On a sunny December morning two groups gathered, one to give, one to receive, separated by a busy street. On one side sat tables filled with wrapped Christmas gifts, clothes, shoes, prepared and packaged food, and manned by volunteers and their families. On the other, children and teens stood near mothers and fathers, glancing expectantly across the way as they extended the inside of their wrists for a number that would let them know when to cross.
When their number was called, they stood in too big or too small shoes, flip flops or socks. Each child was handed a small mylar balloon, with the words Te Amo (I Love You) printed on the front. They had been purchased by a man who knew first hand the indebtedness the recipients would feel, having been helped frequently by this group of volunteers in the past, and that the balloons would allow them to give something in return.
Most of us brought along our families including our teens and young kids whose plans for school and vacations had been interrupted over and over that year by COVID measures. The Christmas shopping we had planned to do for them and our holiday vacations would not be happening, and it was too late to order anything that would arrive before Christmas morning. They came along with minimal whining and were soon standing beside us, chatting with other volunteers and receiving their assignments.
The families came one by one, guessing at shoe sizes, juggling babies, collecting snacks, treats, and gifts for the kids. Sometimes they said thank you, sometimes they seemed to feel a thank you didn't aptly encompass their feelings.
As we helped them select bags of sufficient size, some of the kids would hold out their little balloon to the volunteers encouraging them to take it. Their large eyes would express their gratitude, along with their "gracias''. The kids struggled to understand why someone who had so little would give what little they had, especially something they had possessed for a matter of minutes.
All the kids and teenagers had jobs, anywhere from a hand sanitizer station to handing out hotdogs, treat bags, and grocery bags. One boy's job was to strike out their numbers with a red marker, signaling they'd passed through the line. Tiny hands would reach out to pull up their sleeves, obediently following the instructions of a teenage stranger with a marker. Initially he would cross the number, but soon he began turning the little hands over to add a smiley face. I watched him watch their little faces, anticipating their surprised smiles.
Giving. Mother Theresa said, "It's not how much we give, but how much love we put into giving." The little Te Amo balloons in my boys' bedrooms are a literal reminder of that love, that we arrived as givers, but left as receivers, and left with both the joy that comes from giving and receiving with love.

Giving Hearts is a volunteer group that helps people in their local community in Bogotá, Colombia on a weekly basis. Started from two morning-walkers who saw a need and invited others to join them in talking to families and gathering some of the most needed items, the area residents began joining the group after seeing them in action, increasing its numbers to nearly 50 families. Giving Hearts volunteers collect food, clothing, and baby items and distribute them to those in need. Recently, they held a Christmas event in which they passed out presents, clothes, groceries, new sneakers, and warm food. When people started arriving they had balloons that said, "Te Amo'' on them that they would hand to the volunteers. At the end of the event, the volunteers asked about the balloons and they were told it was a way of saying thank you and to show their appreciation for all they had done for them, a way of giving something in return. Giving Hearts helped over 70 families during this one event.