Carlos Arturo Albino Reyes · Venezuela
The Voice of My People
I had a meeting with Nicolás Maduro, the president of Venezuela, and he insulted me.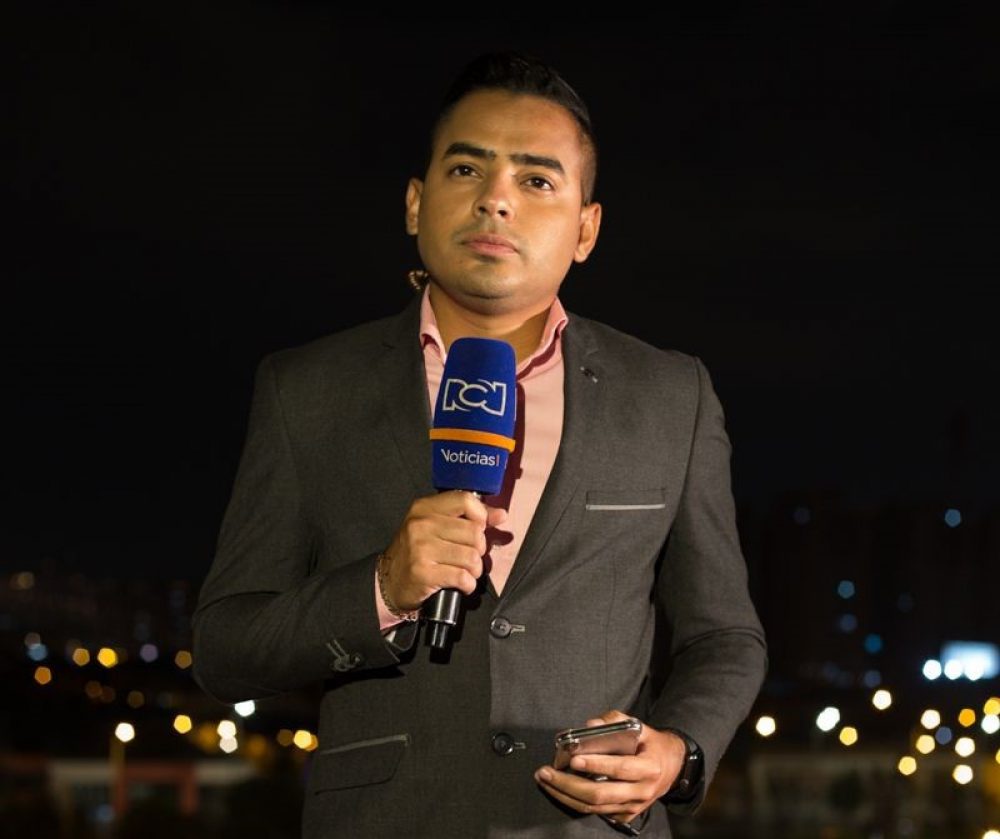 I am Carlos Arturo Albino Reyes. I was born in Caracas. I grew up in the city of Los Teques. I come from a humble home but lacked for nothing. My mother worked as a civil servant. My sister is 26 years old and is studying medicine. I have a large family of twenty-five uncles and aunts, all of whom are still in Venezuela.
When I was eight years old I started in the world of communication, on the radio. My job was to announce who was having a birthday. I was happy because since I had so many cousins, ​​there was always someone to congratulate. Then I went to the FM station Máxima 98.5 and soon was cast on the TV program "Atómicos de Venevisión."
When I was in my second semester studying Social Communication at the University of Santa Maria, I applied for a job at Globovision. They explained that it was very difficult to get a job there. My duties included serving coffee and assisting the First Page Program. Before finishing my internship, I was hired as a Production Assistant for the International Compass program.
After that, I held a position on an entertainment program as a production assistant, and then as a General Producer for "Sabado en la Noche", a much-viewed program where I spent two years. Those jobs ended when the channel was sold. Then I went back to being a news reporter. Working there, I was able to accomplish my goal of owning my own car. It was old, but it was my own.
But because of certain restrictions, this job wasn't a good fit for me. For instance, I wasn't permitted to use words like "demonstrations" or "shortages".
I had a meeting with Nicolás Maduro, the president of Venezuela, and he insulted me. My supervisors had difficulty knowing what to do with me. Soon they put me on the program "En Positivo". The focus of that program was to talk with people in various neighborhoods about how they provide for their children.

But there, too, people began to say, "I used to feed my kids by making empanadas, but I can't anymore because there is no flour".

Finally, I was frustrated and quit. One day, when I was taking my mother at 5 AM to buy chicken, I had to queue for hours. I came to the realization that I must leave the country.
I came to Bogotá, where I met many people who worked in media. I was fortunate to be hired on television as a 15-day temporary replacement for someone. Then, because someone resigned, I was offered the position of Junior Journalist at NTN24, a Colombian cable channel. At the time I had with me only two suitcases and a Mercosur visa. Remarkably, I was unemployed for only three days in Colombia.
Now, after five years, I am on RCN Televisión, a Colombian television network. I am a police reporter. However, my strength is storytelling, and it is what I do the most. You and I have a story. Behind each one there is an effort, a sacrifice made that helps us achieve our goals.

For me, it has been a blessing to come to Colombia.
The Colombians have opened many doors for me and I have never really felt any discrimination. It has been a very generous country with us. It is the place that welcomed me and gave me work. And the most important thing is that it has allowed me to listen and to be the voice of my people; to put the microphone out there so that we know what is happening.
I am super happy and super grateful to Colombia.
Informed Consent
Our team members obtain informed consent from each individual before an interview takes place. Individuals dictate where their stories may be shared and what personal information they wish to keep private. In situations where the individual is at risk and/or wishes to remain anonymous, alias names are used and other identifying information is removed from interviews immediately after they are received by TSOS. We have also committed not to use refugee images or stories for fundraising purposes without explicit permission. Our top priority is to protect and honor the wishes of our interview subjects.