Hasti · Afghanistan
HASTI
Diary of An Afghan Woman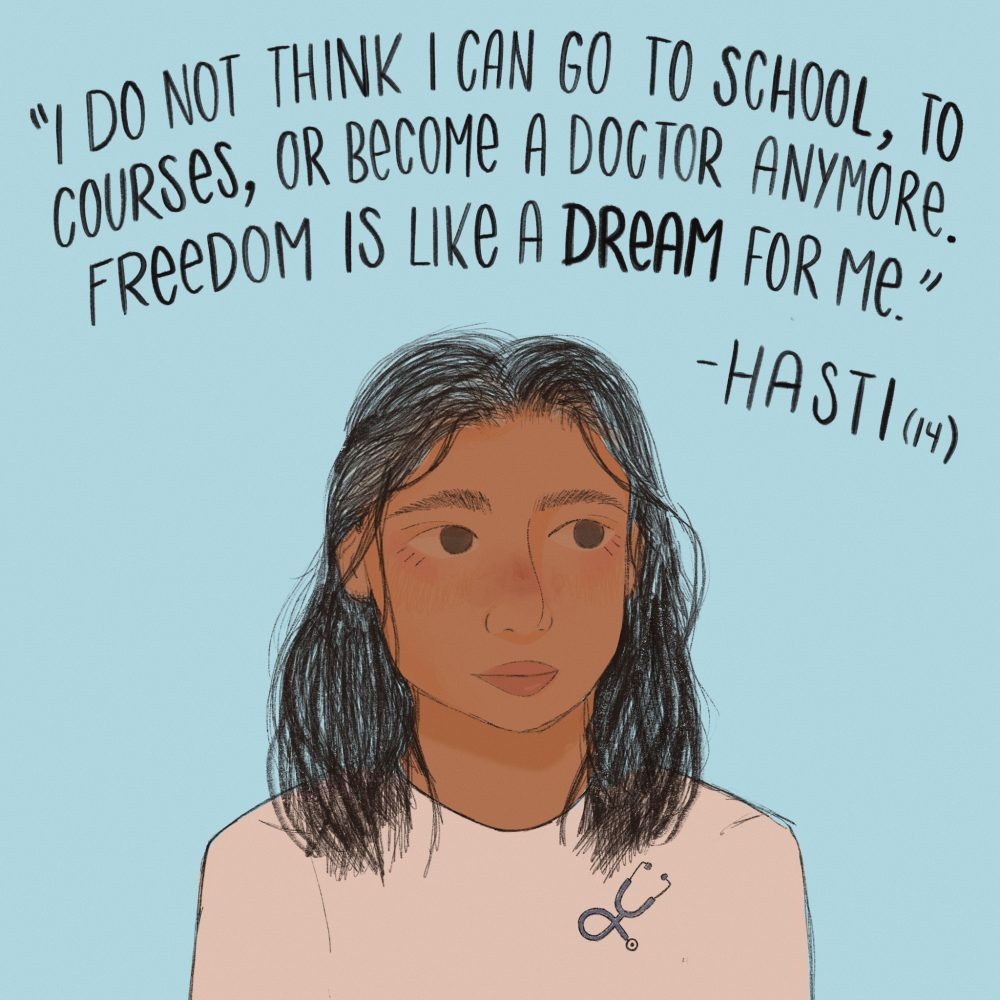 We Grow Every Day - September 21, 2021
We all eat together because my grandfather always said that families should be together for food - because intimacy between families will increase. After eating, I take part in household chores. And I distract myself by reading my school books and novels. They take my heavy thoughts away from me for a few moments. Sometimes my grandmother tells us a story from the past, and about how she married my grandfather. She has become more intimate with us since the day the Noor returned from Kabul. Maybe she understood my value.😝 We talk to each other, we dance with each other 💃 and we are happy and laugh for a few minutes. We watch movies with each other at night, or make tea and talk to each other.
Grandmother shares her memories with me and I listen eagerly.
Sometimes we play with each other on my cell phone.📱 And then the day ends. And we grow every day. Our days end sometimes well and sometimes badly, and I am more hopeful every day than yesterday.🙂
My Mind Is Very Busy - September 21, 2021
Today my day passed like the previous days. Boring and repetitive. And it added to my concerns. I stay up until midnight thinking about my future and that of my family. I do not know what will happen to us. I think of my father and his reaction after Noor left. My mind is very busy. I'm upset and still scared. I think about what I should do if my father comes and takes me to the village.
What if I have to get married? Or what will happen to my mother?


I have never seen love from my father and I do not have any good memories of him. Every time he came to our house, he would fight with my mother. One day he came to our house and shouted loudly. I do not know what he said because I was holding my ears tight. My grandmother was so scared that her hands trembled more than any other day, and she cried. Sometimes I wish my father loved us like all other fathers. And he did not fight with my mother.😔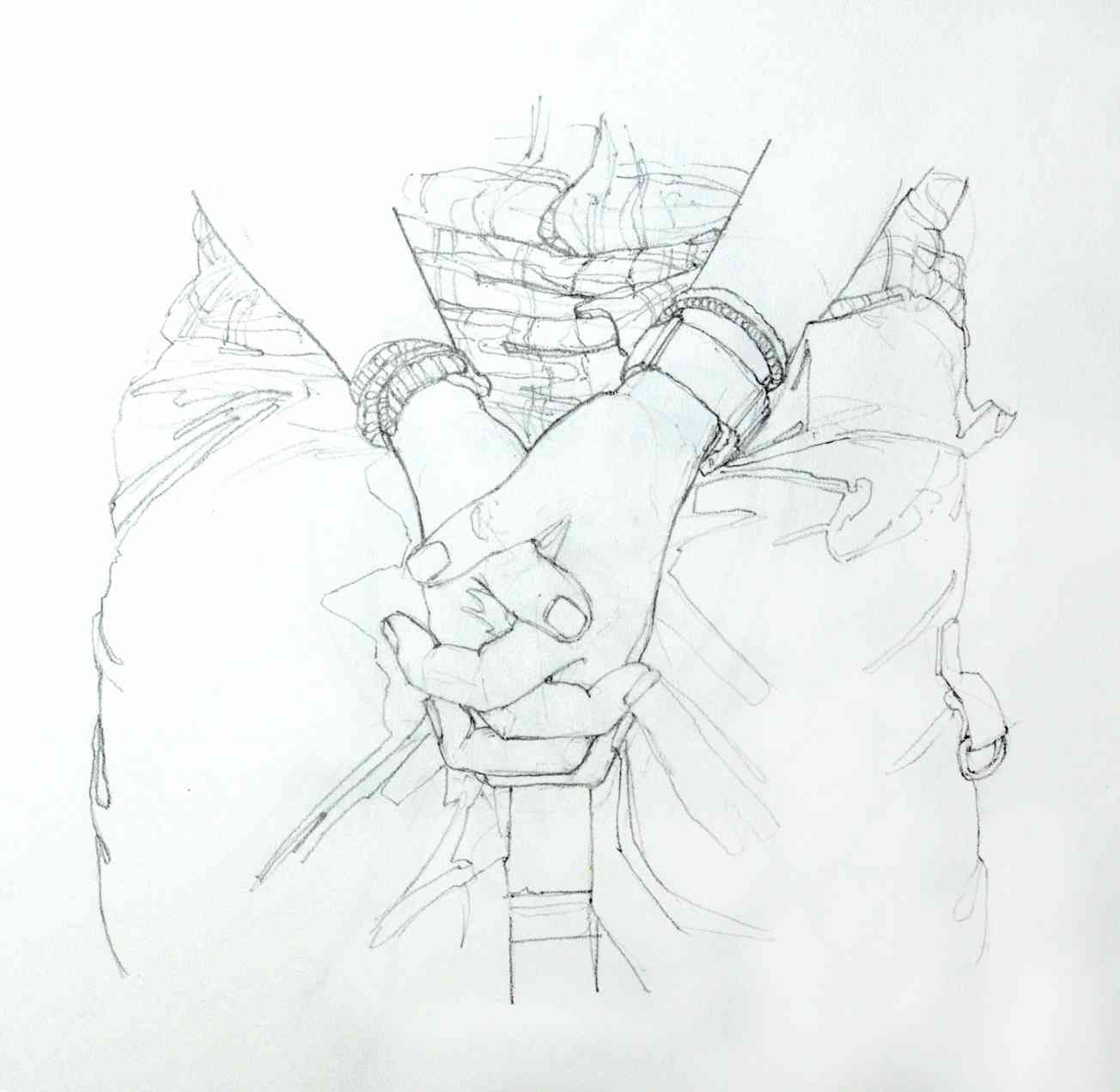 His son-in-law came today and told us what he had to say. He has said that if Noor goes away, it will not be good for my mother and me.
I think about these things every night when I go to sleep and every morning when I wake up.
My Friends - September 16, 2021
You asked me to tell you about my friends.
I have many friends, most of whom I met at school. Because I am a funny and social girl, I am friends with all my classmates at school.
But I'm really intimate with some of them. I have known them for 7 years, and I love them from the bottom of my heart. They are like my family. They were always with me in my joys and sorrows, I have many good memories from all of them.
All the other students in our school know our 6-person group. We always supported each other and loved each other like sisters. But I have not seen them for a long time, I miss them very much. I had a phone call with them, but as you know, nothing is like a face-to-face meeting. But thank God I can at least hear their voices.
One of my friends is very close to me. We always communicate with each other. Her name is Hadil [name changed]. She is a very funny and kind girl. She always makes me laugh. I always sat next to her. And we always bought presents for each other.👯‍♀
We always played together in our spare time at school. Games like volleyball or truth or dare. We celebrated important events such as Teacher's Day together. Or we did some projects together, like painting on school walls. One day we drew a tree on the wall of our school,🌳 it was really beautiful and left a very sweet memory of us friends.✨
I miss them all so much, I wish I could see them one more day. 😞

Question: What are you hearing from your friends?

They're good but they also can't get out of the house like me.😞. I have not been out of the house at all. I miss everything - even the streets. 😂
We have phone calls together. My friends are also afraid that they can no longer study. They are depressed and disappointed. But I tell them to be hopeful. Perhaps everything will be well and we can continue to study. I do not know whether they are hopeful or not. But maybe I can help them.😓
When I Am Afraid - September 13, 2021
When I miss someone or when I'm afraid, I go to the roof and see the stars. Another hobby that calms me is reading a book. Right now, I'm reading a book called Forty Laws of Love, which was written by a famous writer in Turkish, Allef Shafak. It is a story about a poet called Mowlana and Shams. It's a very popular and enjoyable book. I have learned a lot from it.

I have read many novels and books. Like Pride and Prejudice, and The Alchemist. I decided to read them again because I really like reading books.📚
- Hasti
Father's Threats - September 13, 2021
The situation in our house is not good at all. My father has not been informed of Noor's departure, but he has warned us again that he will bring the Taliban with him and take us to the village [if Noor leaves]. And he will hand over my mother to the Taliban. My mother is very sad and cries a lot. I do not know what to do and what is going to happen to us.😞
- Hasti
Overcome With Fear - Sept 9, 2021
Noor went to the embassy today to get a visa. She handed over her documents, and her visa will arrive on Sunday. We are waiting.

My mother is not well at all, she cries all day. She is worried that my father will be informed of Noor's departure and that he will either separate me from my mother and take me with him, or that he will bring the Taliban to our house because he knows a lot of Taliban, they are his friends. Anyway, Baran and I try to calm her down. We are also very worried about my father's reaction.

I have not left home since the day when I tried to go to school. I am very afraid of the Taliban. Sometimes my mom gets scared when she goes out shopping. She returns home and says that armed Taliban are standing in the street looking at women with harsh faces.

We have nothing to do with our neighbors because half of them are Taliban and we do not have a man at home. We are afraid that they will notice us and harass us. We have not been in contact with them in the past.

We all have a lot of stress and worries and we pray day and night.
- Hasti
September 8, 2021
My Relationships With the Women in my Family
I am the youngest member of our family.

I have no childhood memories of my father. There was just my hero mother, my sisters, my grandparents and me. My grandfather was a really good and kind man and I loved him very much. He is always in my prayers. When I lost my grandfather, I spent more time with my grandmother and I really love her from the bottom of my heart.👵🏻❤️

I also love my mother and sisters very much. Especially my mother, who has been my father and mother since I was a child. She never let me miss my father. It really makes us all proud. I wish one day to be a strong woman like my mother.

I love my sisters too. They have always been and are my supporters. I have many good memories with them. I consider Sara as my second mother. She is a brave and strong girl and a really good cook.😋 Everyone says I look like Sara and it makes me proud to be a beautiful and powerful girl like her. She was always with us in every situation. The day she got married and left our house, I felt I had lost my mother. I really miss her. A few years ago, when I came home from school, I could smell her on the stairs and I was very happy, thinking she was back, but she was not. Maybe that smell had reached me out of nostalgia.😞
After she left, Baran and I became very good friends.👭 Noor and Baran were teammates because they were almost the same age, but I was not a teammate because I was younger than them. But Baran always played with me. We used to play games like Jozbazi, which is a very popular game in Afghanistan, or a hide and seek game. When she got married and left, I cried a lot and felt deficient, but she never left me alone and always comes to see us. And now that I know she is going to be a mother, I am very happy for her child because his mom is a really beautiful and brave mother.😍

Noor is a smart and secretive girl. She always helped me with my lessons. One day, when I had a math exam, I had problems in some lessons, but she taught me and I passed the exam well. And that day I realized that having a smart sister is really a blessing.😜 She also helped me with some of my school projects and painted for me. She is very tasteful in choosing clothes and I always bought clothes with her help. She always advises me and she is a really good guide and I trust her a lot. And I believe she will one day be a really successful person. Today she went to get a visa to fly to Russia. I am very happy for her because I know she is moving toward a bright future. On the other hand, I am sad because I will really miss her. We all cried a lot today because I felt we may not see her for a long time and we will miss her very much. Now our house is very empty and I feel lonely.😞

I love my family very much. We are a family that has always supported and will continue to support each other in good times and bad. And we never left each other in difficult circumstances. This is my family's strength.💪🏼

I hope one day we will all be together and live in a safe environment.

don't forget to read about Hasti's mother and sisters
September 7, 2021
Afghanistan has many delicious food. There are rice, kebabs, delicious sweets etc. My favorite food is Qabili, which is a kind of rice and is very tasty. I know how to prepare it and I can cook it deliciously. But sometimes I can not cook as well as my mother - her cooking is very excellent.

There is a kind of soup that is really hard to cook and I can not cook it at all.

My mother used to go out shopping. But since the Taliban came, she has not been able to go. The Taliban say you should go out with a man, and since we do not have a man in our house, we cannot go out easily. But sometimes she goes shopping with my sister's husband.

None of us have a car or are able to drive. Because driving in Afghanistan is a very difficult job for women. If someone sees a woman driving, they are very surprised and sometimes they tell the woman, "you are a woman, why are you driving?". Before the Taliban came, my sister Noor had gone to a driving course and learned, but a few days before she got her license, the Taliban came and she could not go there anymore.

Our apartment has three floors and each floor has three rooms. My favorite place in our house is the roof, sometimes I go there in the evenings. I spray water everywhere and sit there. It is very calm and enjoyable and it really calms me down.
- Hasti


September 3, 2021
Hello!
It has been almost three weeks since the arrival of the Taliban and our morale is getting worse every day.

I started to go to school yesterday for the first time in a long time. I completely covered myself for fear of the Taliban. On the way, an old woman told me, "Aren't you afraid to come out? The Taliban beat a girl on the way to school." I do not know if it was true, but I was very scared and went home instantly. That day I realized that being a woman in such an environment is really hard.

We were sitting in our living room two nights ago. Suddenly, we heard a loud and terrible shooting. We immediately hid so the bullets would not pass through the window and harm anyone. Then we realized, the Taliban did such a terrible thing [shooting] because of their victory. These sounds lasted a few minutes. I hope I do not hear those sounds again.

It is very difficult to leave my home and country and go to a place where I am not at all familiar with the environment. It feels really bad.

I will miss everything, home, school, friends, and especially my grandmother. But if I want to have a good future, I have to do it.

If I go, I would take my books with me because I think books are human's best friends and many things can be learned from them. I also want to take the bracelet that my grandmother gave me on the night of my birthday because I want to have a souvenir from her.

I wish we did not have to leave our home and country. :(
- Hasti
September 1, 2021
Hello,

My name is Hasti and I live in Afghanistan. I am 14 years old and I am in the 9th grade. I wish to be a successful doctor in the future. I want to be able to help people, but with the arrival of the Taliban, everything has changed.

I pray every night that I can go to school again and see my friends. I have not been in contact with them for a long time and I miss them very much.

Sometimes I hear that the Taliban takes girls and forces them to get married. I am very afraid that one day I will have such a fate. Some say the Taliban have changed, but I do not think so. They have a bad and terrible past. The day the Taliban came, I cried a lot. It's been almost three weeks since they arrived, and I haven't been out once because I'm so scared of them.

I do not think I can go to school, to courses, or become a doctor anymore. Freedom is like a dream for me.

But I hope everything goes well and we can study and succeed.
- Hasti
Informed Consent
Our team members obtain informed consent from each individual before an interview takes place. Consent forms are translated and explained in the individual's primary language. Individuals dictate where their stories may be shared and what personal information they wish to keep private. In situations where the individual is at risk and/or wishes to remain anonymous, alias names are used and other identifying information is removed from interviews immediately after they are received by TSOS. We have also committed not to use refugee images or stories for fundraising purposes without explicit permission. Our top priority is to protect and honor the wishes of our interview subjects.