Which mental health disorders impact refugees?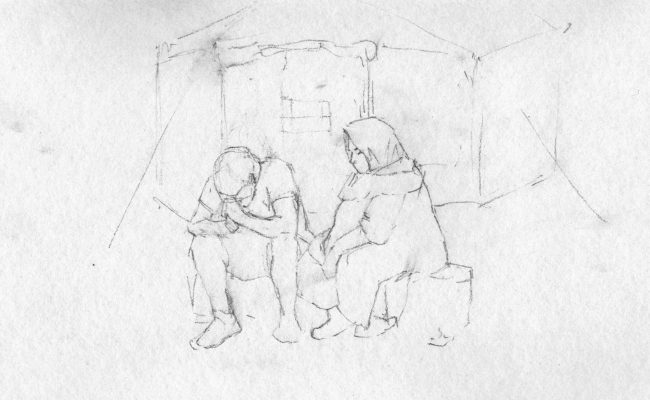 Sketch by Elizabeth Thayer
Studies confirm that refugees are at substantially higher risk than the general population for a variety of specific psychiatric disorders. These disorders include:
PTSD
Major depression
Generalized anxiety
Panic attacks
Adjustment disorder
Somatization (Medical symptoms that have no known cause but can be linked to stress)
Chemical changes in the brain
Multigenerational trauma
Exposure to torture is the strongest predictor of symptoms of post-traumatic stress disorder among refugees.
(Kirmayer, L. J., Narasiah, L., Munoz, M., Rashid, M., Ryder, A. G., Guzder, J., Hassan, G., Rousseau, C., Pottie, K., & Canadian Collaboration for Immigrant and Refugee Health (CCIRH) (2011). Common mental health problems in immigrants and refugees: general approach in primary care. CMAJ : Canadian Medical Association journal = journal de l'Association medicale canadienne, 183(12), E959–E967. https://doi.org/10.1503/cmaj.0...)
Refugee voices on mental health
Humanitarian aid workers report on what they see in Hope Hospital in Cox's Bazar, Bangladesh: