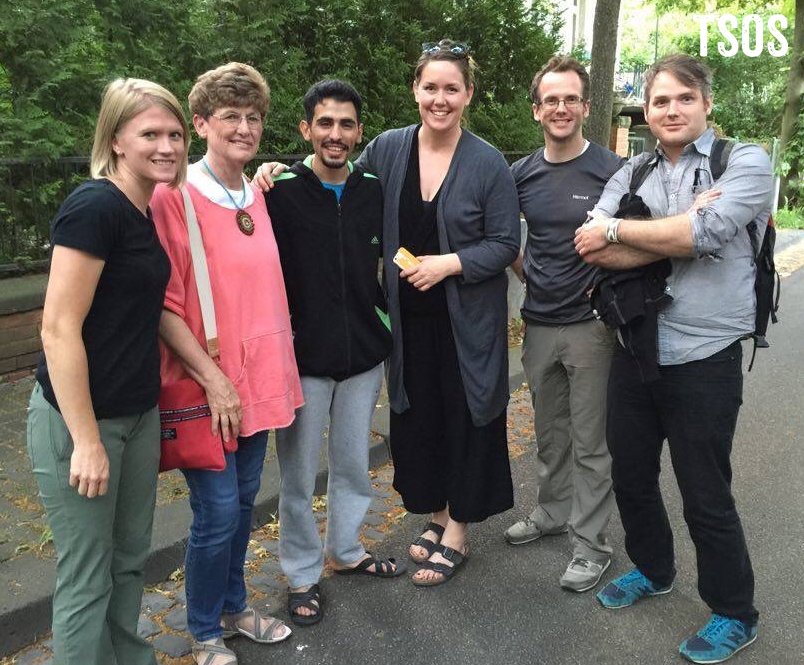 Here we are posing with award-winning pianist Aeham Ahmad near his temporary home in Wiesbaden, Germany, on the day we interviewed him (July 7, 2016). He had just returned from a long, tiring trip to Poland, where he had performed yet another concert without pay. He was tired but graciously met with us and shared his commitment to help solicit aid for his fellow refugees through his music. His longing for his wife and children, who were still awaiting travel documents before joining him, and his grief for those still suffering in his homeland were palpable.

Other Posts
Their Story is Our Story (TSOS) and By Women, For Women (BWFW) announce a partnership focused on collecting and sharing stories of displaced women.

November 7, 2022
Through the connections made by the TSOS Community Programs team, we were able to connect Yalda Royan with Julie Rose for this powerful episode, "When is War Justified?"
October 24, 2022
Queen Elizabeth's passing has brought a renewed love of Paddington Bear, who for many charities, has become a powerful image for refugees. Mugs and t-shirts with pictures of Paddington and stating 'Migration is not a Crime' can be seen. And who can argue with a cute bear?
October 24, 2022
Sign up for email updates