Alla Mashkey · Ukraine
I'm in a Strange Country with Strange People
A Ukrainian grandmother tells her story of escaping Kharkiv at the start of the Russian invasion
I feel that everything that is going on is not happening to me—I'm now in a strange country, with strange people.

My name is Alla Mashkey, and I am from Kharkiv, Ukraine. I am a specialist in parasitology, and I worked in a research institute. Before the war, I lived with my daughter. She used to work as a child psychologist in a center for kids with special needs. My husband, who passed away many years ago, was a scientist and he loved reading.
The war first touched me at 5:20 a.m. on Thursday, February 24th. We were sleeping and suddenly heard a volley of missiles. We knew that there were tensions and had tried to get ready by preparing a go-bag. We had been warned and encouraged to do that. However, it was hard to believe that the invasion could actually happen.
I was afraid for my daughter and my great-granddaughter who lived with me at that time. My daughter got a call from her coworker who invited us to hide in a shelter nearby. The three of us decided to take our go-bag and hide there.
There were a few families and individuals in addition to us. The shelter wasn't equipped very well. We tried to make the place more comfortable by improvising beds for at least the children. Once the shelling started, all of us were seated and prepared for everything. It is difficult to describe my feelings when I first heard the sound of shelling. I felt numb and the only thing on my mind was a prayer. We spent many nights in this shelter.
Meanwhile, we tried to find ways to get out of the city. There were some opportunities, but they were not safe. The area where we hid was under shelling the whole time and it was hard to get out. Public transportation didn't work and taxis couldn't come to pick us up.
In the shelter where we hid there was a woman who told us that she had a car and had just received her driver's license. She couldn't take us anywhere because she was in a panic and couldn't think rationally, but she said that if we could find a driver, she would give us the car and the keys.
I'm grateful that my daughter could stay calm. She was able to find a driver and organize everything. We had kept in touch with other families from our church community in order to help each other. Our church leader offered to drive the car and take several people to the railway station.
We finally left Kharkiv on March 3rd. Fortunately, there was no shelling while we were driving, although we saw many blown-up cars on the way.
The most difficult part came once we reached the railway station in Kharkiv.

There were so many people; it looked like a human wall of children, women, and elderly people. The area was wide open and the shelling continued while we waited.
From time to time, Ukrainian soldiers shouted, "Hide by the wall!", and then "Lay down!" We followed their instructions.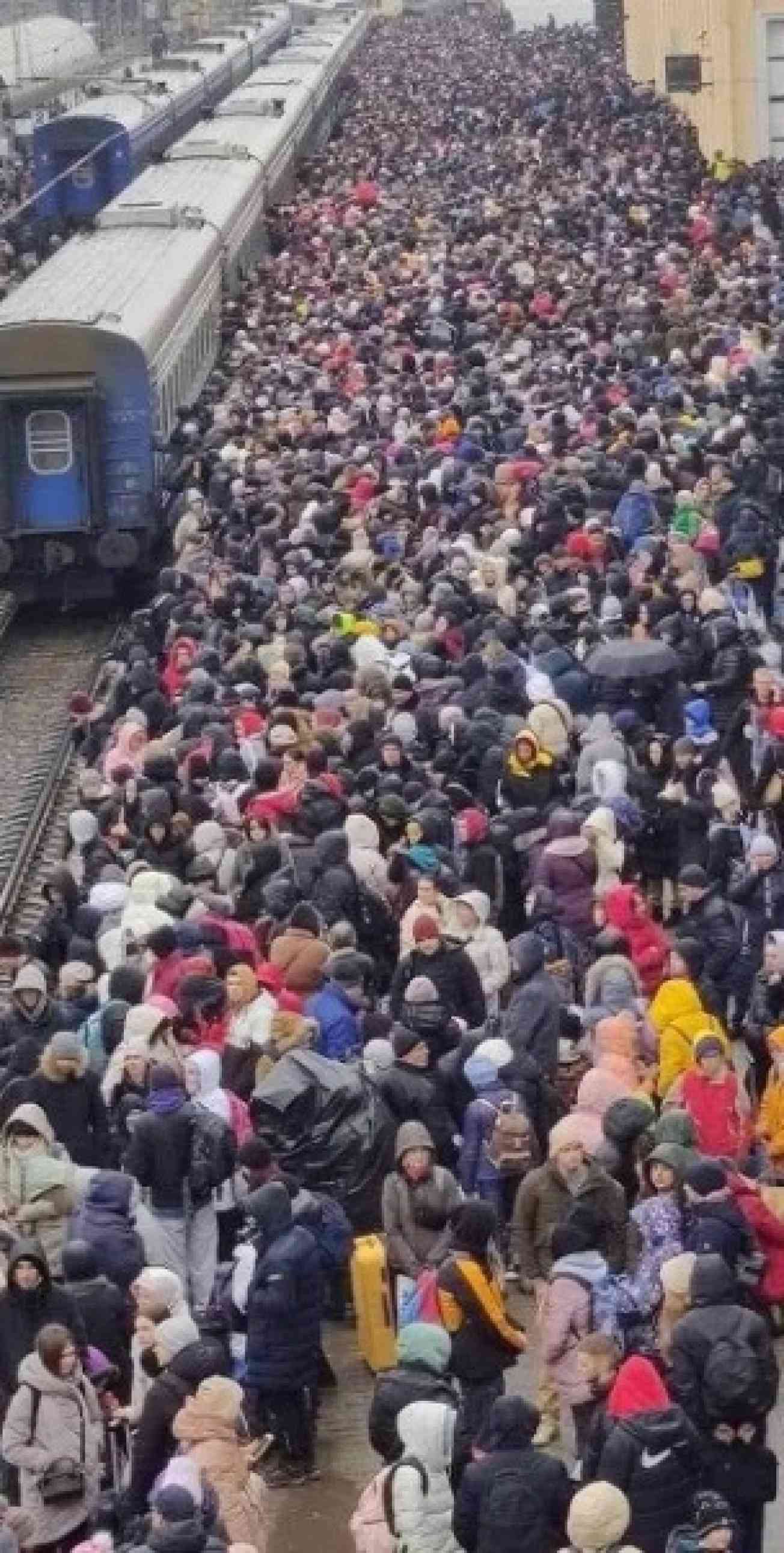 My grandson had asked us to help his friend's mother and daughter get to the Polish border, so there were five of us boarding the train. The trains departed every three hours, but because of the crowd it was impossible to get on a train. There was screaming, crying, panic, and chaos. People were leaving their belongings behind, and it was cold and raining. It felt like a horror movie. We stood at the platform for 12 hours in despair. We did not know where to go and almost lost hope of leaving the city.

When the platform was a little less crowded, a woman next to me asked, "Where are you going?" I replied, "We are going to Lviv." She suggested going to Vinnytsia instead, because it was not possible to get on the train heading to Lviv. I couldn't hear the announcements at the station because of the noise, but she said she would try to listen when they announced the train to Vinnytsia. Eventually she heard it, and we ran to the platform.
On the train, we traveled in darkness and were not allowed to use the light. Not far away from us we observed the glow of battles. Finally, we reached Kyiv and could use our cellphones to connect with my grandson and let him know that we were safe. We moved further west and eventually met with my grandson and his wife in Poland.
When we crossed the border, I was in tears. I didn't feel peace, but I was grateful we were far away from horror. It was a miracle that we managed to leave. Nothing that happened was by chance.
For about the next two months, I woke up at the same time—5:20 a.m.—every morning. We spent a month in Estonia. While I felt safe, the fear stayed somewhere deep inside. I am still afraid of the sounds of planes and unconsciously wrap my head with my hands.
Right now, we are in Ireland. I think because we Ukrainians are friendly by nature, we brought some liveliness to our new church community here. I talked to one church member, and he reminded me of the biblical story of Lot and his wife, teaching that we should not look back. He told me to live in the moment and adjust to my new circumstances. I don't think about my apartment or my belongings. I realize they don't have any worth for me right now.
I don't know why we ended up in this small town in Ireland. Ukrainians are now scattered in many countries. So far, I cannot fully understand the reason for this and what exactly we should do, but I have a feeling that somehow it is connected with God's work. Maybe we should understand and accomplish something. We should transform this hard experience into something good.

Informed Consent
Our team members obtain informed consent from each individual before an interview takes place. Individuals dictate where their stories may be shared and what personal information they wish to keep private. In situations where the individual is at risk and/or wishes to remain anonymous, alias names are used and other identifying information is removed from interviews immediately after they are received by TSOS. We have also committed not to use refugee images or stories for fundraising purposes without explicit permission. Our top priority is to protect and honor the wishes of our interview subjects.