Wilmot & Maddie Collins · Liberia
I'm Here To Listen
Wilmot Collins - Mayor of Helena, Montana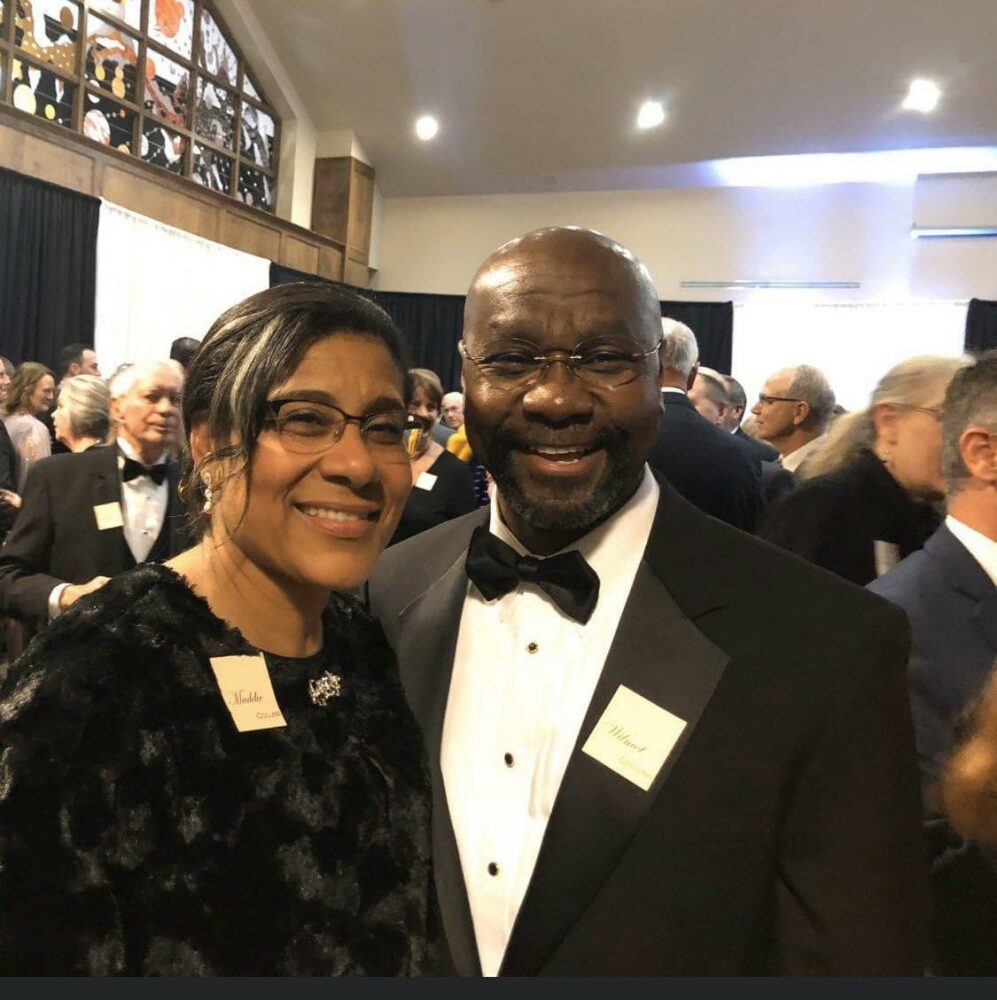 Journey
Wilmot Collins and his wife, Maddie Collins, fled Liberia's civil war, seeking safety in Ghana. He recounted, "I weighed 92 pounds and my wife was 87 pounds. We were literally dying of starvation." Both of Wilmot's younger brothers had been killed in the conflict that had forced him and Maddie to escape.
Maddie had once been an exchange student while attending High School in Helena, Montana, and the family she'd lived with helped her get back to the US from Ghana. Just weeks before before leaving, Maddie found out she was pregnant. Wilmot waited and worked his way through the immigration system for more than two years to make it to the US.
He had missed his daughter's birth and Maddie was attending nursing school when Wilmot finally arrived in Helena on February 17, 1994. It was a snowy day the first time Wilmot saw Montana, but he said it was the "warmest he had felt in years" as he hugged his wife and saw his 2-year-old daughter for the first time.
Neighbors
Not long after Collins landed in Montana and started his life over in Helena with Maddie and Jaymie, his home was vandalized with "KKK" and "go back to Africa" painted on it. The attack came after a fake airline ticket was anonymously delivered in the mail with a note that said, "Here's your ticket. Go back to Africa." He received other notes, even one under the windshield wiper of his car that he found after finishing his grocery shopping. The note gave him a "final warning" to go back to Africa. The notes had been unfriendly but the graffiti on his house was harder to ignore.
A neighbor knocked on the Collins' door to alert Wilmot to the vandalism. When Maddie asked about the commotion, he tried to keep it from her and Jaymie, but according to Wilmot, "she's not the type who can be fooled." Heavy-hearted, they went inside and reported the crime to the Montana Human Rights Network, a local anti-hate group. However, they emerged to find a large group of neighbors scrubbing the garage door until it was clean. This community, his neighbors' act of repair and restoration, was what convinced Collins that he was truly at home in Helena, Montana.
"People always say, 'Oh man, you know you're in Montana? Do you experience racism down there?' " Collins said. "I say, 'Yeah, but how your community reacts to what happens will determine whether you belong or not.' " Because of his neighbors, Wilmot now says, "I don't dwell on that [act of racism]," Collins said. "What I dwell on is the reaction to what happened. My neighbors got together and washed my walls down."
Becoming
Instead of relocating to a state more welcoming to newcomers, Wilmott and Maddie stayed in Helena to raise their two daughters. Collins started by working as a janitor at a school, then became a substitute teacher, and eventually a social worker. He got involved in the community by coaching soccer and serving on the United Way Council. While Maddie became a nurse at the local VA hospital, Wilmot served in the US Navy Reserve, worked in the Montana Office of the US Department of Veteran Affairs and the Montana's Department of Health and Human Services with his Master's Degree specializing in child protection.
Wilmot said, "When I arrived in this country, the only thing on my mind was to care for my family. Once you show you work hard and you're dedicated, doors start to open." He has devoted free time to advocating for refugees and other immigrants. He serves on the Refugee Congress advisory board and the board of the Lutheran Immigration and Refugee Service.
Collins arrived in the U.S. in 1994 after fleeing a brutal civil war in Liberia. He enlisted in the National Guard six months after his arrival, and he will retire later this year. He said he decided to run for mayor in part because "people think refugees come here looking for a handout, but no, we want to make a difference."
Belonging

Wilmot Collins made big news when he was elected mayor of Helena, Montana. The predominantly white region, not a stranger to right wing extremism, white nationalism, and hate groups, had chosen a refugee from Liberia over a 20 year incumbent for their mayor.
Wilmot Collins, like most Montanans, sees life in pragmatic terms. "It tells you that the people of Helena were more focused on their own issues and it was not about race or anything," Collins explained after campaigning at hundreds of homes in Helena. "They were looking for a change and I came in at the right time. I spoke the language they were looking for."
He doesn't dismiss racism, saying, "I think there's reason to be concerned for the safety of people of color, including immigrants right now in Montana, in the Pacific Northwest and across the U.S., because of the vitriolic scapegoating of immigrants and brown folks by activists and elected officials." Nevertheless, Wilmot responds to the hate by being out in the open, and surrounding himself with his friends and neighbors in the small capital city of Helena. He takes on the rhetoric explaining that, "I think it's time that somebody steps up to the plate to bring some civility back. I think it's time that somebody who wants to represent the whole of Montana steps up."
At his inaugural celebration, a huge crowd gathered to celebrate the unprecedented victory. Expecting to hear a typical victory speech, they were shocked to see Wilmot hand the microphone to his mother, Jamesetta. She reminded him where he might find strength saying, "When I heard about the election," she said, looking at her son, "I told him, 'God has a purpose for you! And now that he has given you the chance, you must utilize it to the best of your ability.'"
Wilmot told the crowd, "My mother knows the life we lived before the [First Liberian Civil] war. We lived an upper-middle-class life, and then all of that was taken in a matter of days. All of that we lost. I lost two brothers in the war. I was homeless. My wife was homeless. But today, people want to meet with me. It says a lot about the community. It says a lot about the second chance we were begging for, and I always say I will do nothing to damage that second chance. My mom always says, 'God gave you two ears but one mouth, so listen more and talk less.' So, I open my hands to you to say I am here to listen."
The wisdom of the Collins family reminds us of the need to voice experiences and values that unite us rather than clinging to political platforms that divide us, to tell our neighbors, "I am here to listen."
Montana Human Rights Network
Refugee Congress
Lutheran Immigration & Refugee Service.
https://theintercept.com/2019/...
https://www.theguardian.com/us...
https://www.umnews.org/en/news...
https://www.denverpost.com/201...
Informed Consent
Our team members obtain informed consent from each individual before an interview takes place. Individuals dictate where their stories may be shared and what personal information they wish to keep private. In situations where the individual is at risk and/or wishes to remain anonymous, alias names are used and other identifying information is removed from interviews immediately after they are received by TSOS. We have also committed not to use refugee images or stories for fundraising purposes without explicit permission. Our top priority is to protect and honor the wishes of our interview subjects.