Katya Niporka · Ukraine
I Will Stay in Kiev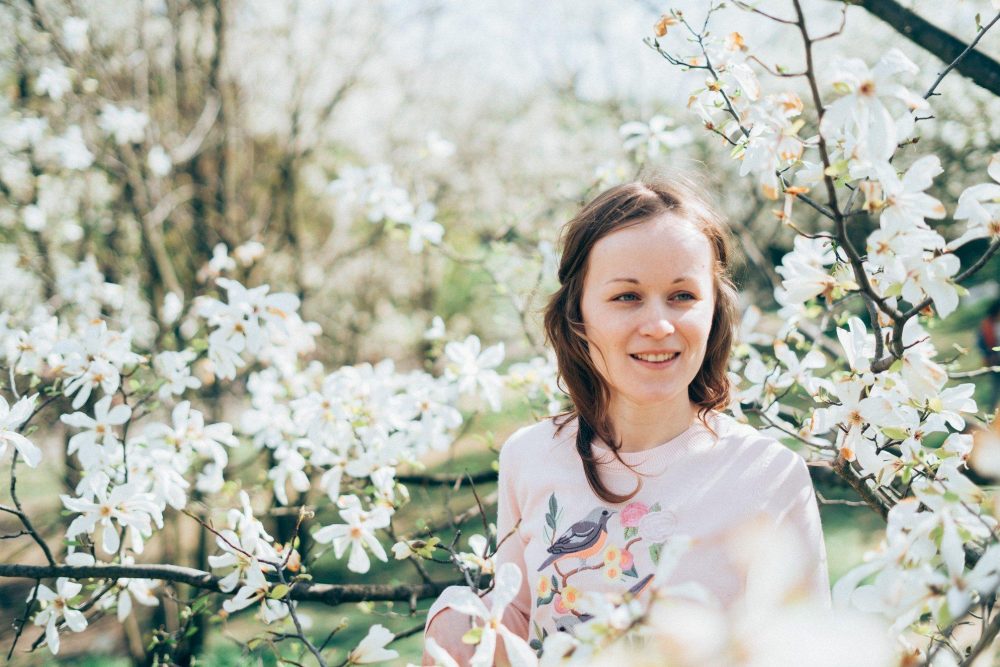 I am Katya. I work as an English teacher and I plan to stay in Kiev.
On February 24th at 5:30 in the morning an explosion woke me up. At the time I wasn't exactly sure what it was. Then I heard another explosion farther away. I later discovered the reason for this explosion was that our air defense system shot down a missile very close to the place where I live, about 200 meters away.
I opened my Messenger and Facebook and I saw comments from people from different cities ``Explosions in Kharkiv," "Explosions in Odessa," "Explosions in Mykoliav," and in many other cities. Then I saw an announcement from the Twitter account of our Minister of Foreign Affairs. He posted that Putin had announced this "Special Operation," and that it had begun.
My mom had also heard explosions. My dad's boss told him to stay home. I watched the news that whole day.
The first week I didn't eat a lot. I have some food storage, but

I think it's true that water is not the most important; in this situation the most important thing is human connection and information.
I think I lost maybe 2 kilograms, but I gained that back already, so everything is fine [laughs].
Now, a month later, my day looks different than before. When I get up, I cook breakfast for my 81-year-old aunt, who is staying with me. I cook for her three times a day. I can find everything I need close to my place. I can find chocolate—this is the most important.
I am involved in a lot of volunteer work.
Some days I volunteer at an office where they store medicine, life vests, and helmets for soldiers in Kyiv. I help staff the office so supplies are ready when they are needed. Sometimes we spend five or six hours in this office, just waiting and watching the news.

I also work with one of the leaders of my church to order medicine and supplies. We create lists of requests and place orders through the church aid routes which pass through Poland and Slovakia.

I also work with online groups where I am a liaison between needs and resources.

And I am part of a cyber army. We block channels on Telegram which post disinformation, make false videos, or reveal where our armed forces are located. In the very beginning there were saboteurs looking for people who would help them through those channels. They presented it like a job, they give you coordinates and you go there with a small box that gives off a signal. They put marks on roads and in cities which acted as targets for the airstrikes. We try to block all those chats.

Sometimes I don't sleep until late at night. These past few days, usually in the morning, they fire rockets. I sleep for an hour, then I wake up and check the news, then I sleep again, and I check the news.

It is very difficult to sleep. And before I sleep I am constantly praying. I can endure them firing rockets, but I pray, Please, I don't want anybody to die. Destruction is not a problem if people stay alive. I wanted something to protect the people, and actually, it happened. Yesterday there were explosions, and although people were hurt, there were no deaths. And I was like, my prayer worked!
When I pray now, I'm doing it with such strength. I don't think I've ever prayed this much with such a real intent. At the time, I felt like I should do it. I see now that it was not for nothing.
Many children, probably more than 100, have already been killed. But at the same time when I see the amount of weapons used and the rockets, I can say that God protects people. We have victims, of course, but I'm amazed. It is hard, but people survive.
I know others pray for me and maybe that's why I feel so calm most of the time. So many people pray for our country, and I think that is why we are holding on.

God is here for sure. When people tell you "I'm thinking about you," and "I'm praying about you and your country," and you feel it, it becomes real.

I stay because I feel like Kyiv is like my pet [laughs]. I cannot leave it. I have my family here, my friends here, and I feel like if I leave, I'm going to lose my mind. It is better to stay because I can do something. I can help. I heard this lady in Kyiv who was interviewed by a journalist, and he asked her, "Why are you staying?" and she said, "I want to be present when we win this war." It's hard to leave when I look at the people who stay.
I felt the same in February 2014 when there were three days of hell on Maidan. My friend and I were there the evening of 18 February. It was scary, because at that time many people were already killed. Maidan was surrounded by police and there were fires everywhere.
You could feel it was a dangerous situation. We decided to go home, but then as we were leaving, we saw these girls with big thermoses of hot coffee and tea. The girls said, "Can you help us, we want to distribute this? We want to give it to those guys who stay.

I looked at those guys who were standing there with, like, homemade wooden shields. They were so calm and so sure—and I thought, why should I leave? I had the same feeling then as I have right now.

I'm inspired by our soldiers. Because they are so sure.
I'm inspired by many of our leaders. You see who is a true leader in this situation. They are so sure, they talk about the future, about what are we going to do after the war; and they talk about the war like it is already won, that we should think about what is going to be next.
We can handle this and we can overcome whatever comes.
I served a mission for my church in Moscow, Russia and

I have many friends. Recently I have spoken to some people in Russia, and they have this different opinion about what is happening.
If I say that I'm right then probably they are wrong; but on the other hand, maybe they are right and I am wrong.
It is hard to talk to them because they call white black and black white. It is not possible to change that, and it's so disappointing. When I talk to them I feel so discouraged, and sometimes so angry. It is not good.
I think after everything is over, we will need something to heal people from this. It is so hard, it is almost impossible, but this is probably our trial. After finishing the war we'll have to overcome this evil within us.
I saw a video of a Ukrainian man who was saying that even though we have so much pain right now, at the same time, he said, we have never experienced so much love. All the people who are doing things right now for us, they do it out of love. He said we should keep this and multiply it.

Informed Consent
Our team members obtain informed consent from each individual before an interview takes place. Individuals dictate where their stories may be shared and what personal information they wish to keep private. In situations where the individual is at risk and/or wishes to remain anonymous, alias names are used and other identifying information is removed from interviews immediately after they are received by TSOS. We have also committed not to use refugee images or stories for fundraising purposes without explicit permission. Our top priority is to protect and honor the wishes of our interview subjects.