Layla · Ethiopia
Belonging: I Want to Have Something of My Own
I want to be able to say, "This is MY house! We can stay forever here and nobody will tell me to go."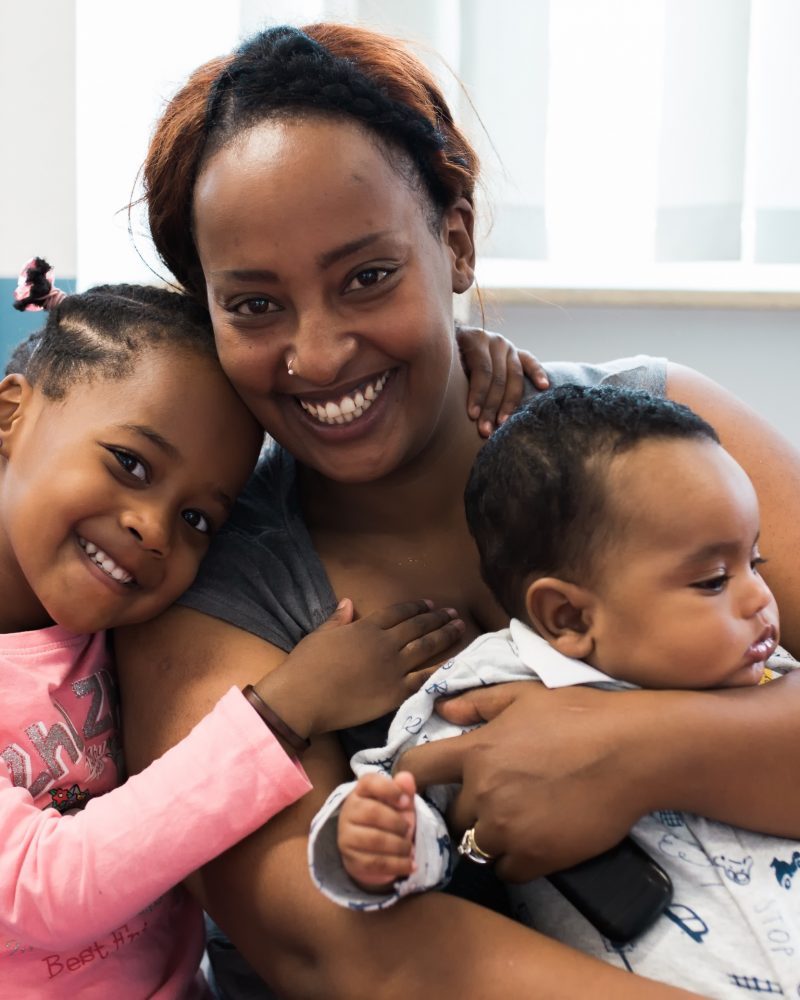 My name is Layla. I'm from Ethiopia. I left almost ten years ago. At that time I was very young, maybe twenty years old. There was no opportunity to work, you know, and I thought maybe I could have a better life. So I left my country and went to Syria to work for three years. After that, I went to Turkey by boat, then to Greece for five years. My daughter was born there. Then I came to Germany. I walked. I carried my daughter on my back for days and days. When you travel with a baby, it's especially difficult. On the road you need diapers, you don't have the clothes you need. My daughter was always hungry. We suffered many things.
When I came to Germany, first we lived in a room with four people. One was an old woman from Somalia, and sometimes she beat my baby if she was noisy. So I tried to keep her quiet. Then I lived in a hotel, a very small hotel. It was a difficult time. There was no place for my daughter to play. When we wanted to eat, we didn't have any place to cook. The mattress, it was so dirty! I had an allergic reaction, but they didn't want to change the mattress. I couldn't sleep in that place anymore, so they transferred me to another place.
They took me to a gym. I had my daughter with me and I was pregnant again. We didn't have a room. Men, women, everybody slept together. Imagine! I couldn't sleep. We didn't get much to eat, and the food they gave us was bad. I didn't have enough money to buy food. I was hungry all the time because I was pregnant. Oh, I was suffering! My daughter didn't want to eat the food they gave her. She would say, "No!" More than anything, I was afraid. Not for me. For me, no problem. I had suffered a lot before coming to this place. I was afraid something would happen to my daughter. All the time I was crying, crying, crying.
Now I am here in the Women's Shelter with my two children. The father of my baby is not here. He is living in London. What I wish for the most is to have my family, like before. Almost ten years ago I lived in a family group. I had my father, I had my brothers — everything.
Now I want to have my own family! My own home! With my children and a comfortable life — I don't want a palace. I don't want money. I just want my children to go to school.
I know how to work. I will work. I don't want to feel ashamed because someone is giving me everything. I want to be with my husband. I want to know this is my place! This is where I stay. I want to have something of my own. I want to be able to say, "This is MY house! We can stay forever here and nobody will tell me to go."
Informed Consent
Our team members obtain informed consent from each individual before an interview takes place. Individuals dictate where their stories may be shared and what personal information they wish to keep private. In situations where the individual is at risk and/or wishes to remain anonymous, alias names are used and other identifying information is removed from interviews immediately after they are received by TSOS. We have also committed not to use refugee images or stories for fundraising purposes without explicit permission. Our top priority is to protect and honor the wishes of our interview subjects.