Faiz and Nathan · Sudan
Everyone Needs a Friend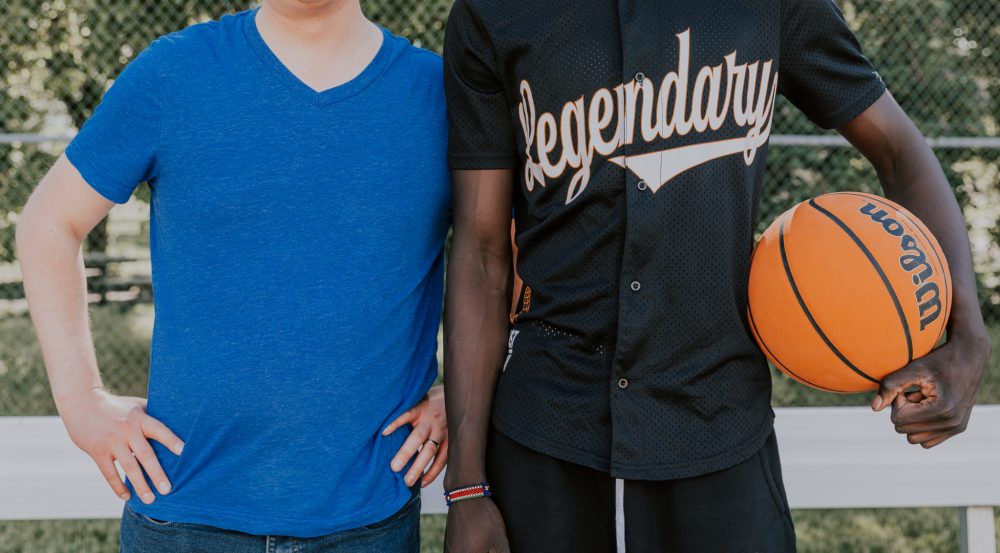 Nathan: You know how you meet some people and they just strike you with their goodness, resilience, and strength? That's Faiz. His family comes from South Sudan, by way of Egypt - Cairo for 12 years. I have gotten to know him through mentoring.
Faiz*: When we got to the United States, we were assigned some volunteers. Our case manager was Ayad. Ayad handled a lot of first stuff. I also got a youth mentor, Nathan. He helped me get a driver's license. I got a car and can drive to work. I work at the hospital in food service. I love the people there. The people love me there.
Nathan: The genesis of our relationship was through the Catholic Community Services NGO. They were looking for volunteers. I thought to myself, someone should help with the spread of refugees, and that someone may as well be me. My family were refugees from Germany during the Holocaust and they were not well received. I wanted to give this group of people the kind of welcome I wish my family would have gotten. So I signed up. After a couple of months of onboarding, there was a match.
Faiz: I like to be with Nathan because he is a cool guy. I love him. We hang out every Saturday because I work the other days. If I didn't work, I would like to be with him every day. He is trying to show me things so I can know a lot of stuff in America. We are so close to each other. He's like my best friend, like my brother. We go play basketball for fun. I love dancing and music. I teach Nathan to love that. I listen to African music and some American rap.
Nathan: My principal objective in being a mentor is that Faiz and his family feel a sense of belonging. We worked on reading, community engagement, and learning about the three branches of government.
But my overall objective is to say, "you are right where you're supposed to be. We need you." I've told them that so many times, "we need you, and we need you to be successful.".

Faiz: I am in 11th grade. I had some friends, but then I moved and it was different. Nathan helps me with my homework. We get coffee and go to the library. And then we do homework. He explains it to me when I don't understand. Before I had teachers that would sit with me and explain the homework. Now I don't have that.
Nathan: Faiz and I have done all different activities. I try to bring each one back to him and his role, why he is significant and ought to be involved. I want him to have some skin in the game.
Faiz: It's hard to make new friends. Maybe because I'm new here. I don't know why. It is what it is. But it doesn't matter. My teachers love me so much. I know that. I like fun. I like to talk to people. I love being around people. Our neighbors are nice to us. It makes me feel good. Because I have someone that cares about me.
Nathan: I also took him to the Rec Center. He loves basketball so I helped him fill out the form to get a card. He started finding ways to gather with his friends and play. As mentors, we're not just to establish a dependent relationship. We're not here to give them handouts. We are here to give them a hand up. You show Faiz the way in, what to do, and offer support and he will do everything to reach his goals. The resilience of this young man, of his whole family, it's inspiring.
Faiz: We spent 12 years waiting in Cairo. My mom did all the paperwork and we just had to wait until somebody would let us into the United States. My dad is still in Cairo. I hope he gets here soon. Everyone loves my dad. It's hard for my mom.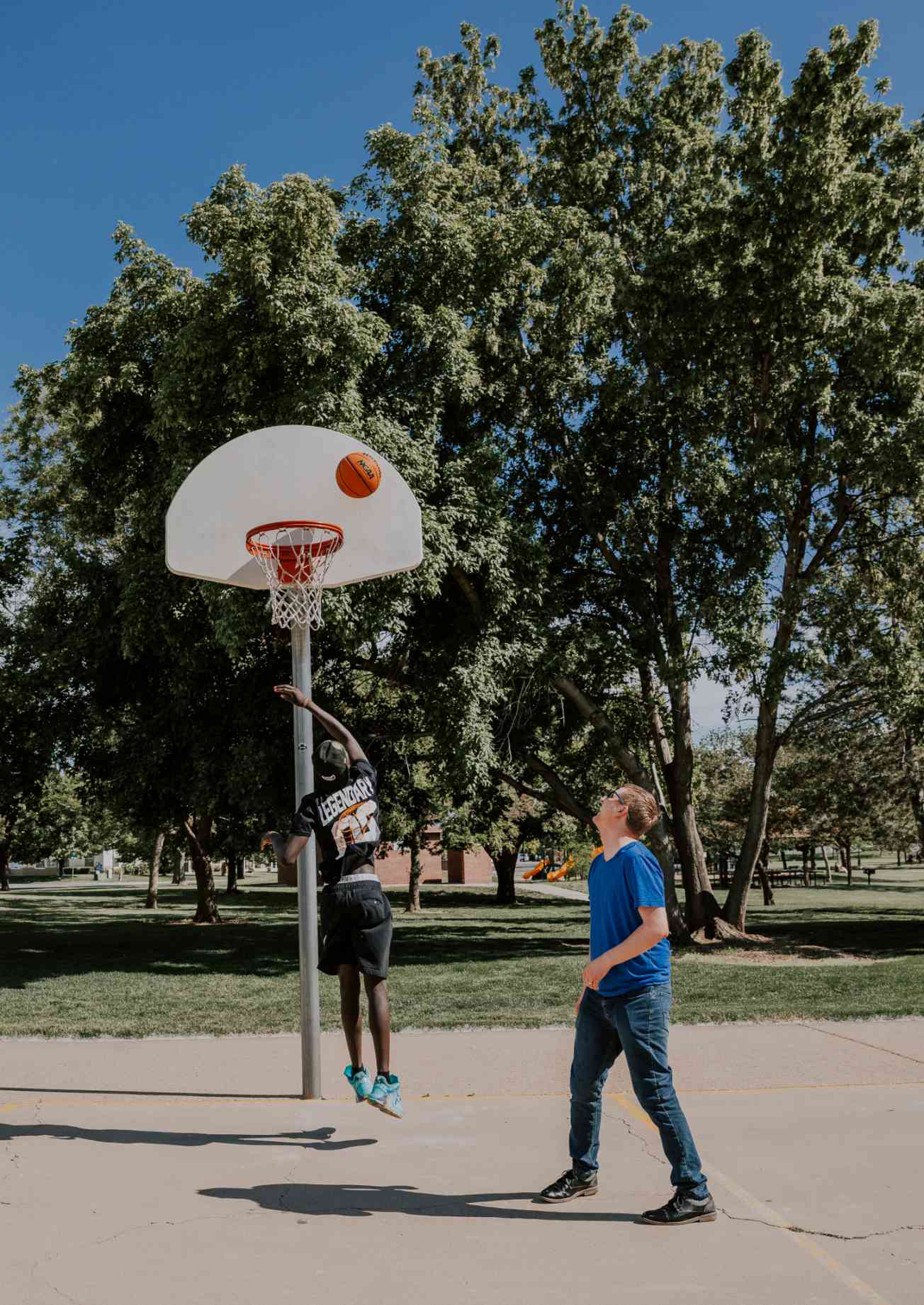 Nathan: Mentoring Faiz has given me a sense of humanity for all of the people seeking to come to America as refugees. How many more Faiz's are out there, waiting for that same opportunity to come here? I know that if Faiz were waiting I would do anything to try to help his family get here. They're everything. We are a country of immigrants. We should be proud of that. The Statue of Liberty doesn't talk about bringing in elites or financiers. It's about those who've been left out or who've been left behind and who've experienced trauma. And look at everything they're doing. Everyone in that family, who can work, does work. And they don't do it out of necessity. They are intrinsically motivated to care for each other.
Faiz: I'm happy all the time. Everyone asks me why I am all this happy. My teacher, Mrs. Rago, will tell you that Faiz is always happy, he makes other people happy.

Everybody needs a friend. Not just me, everyone needs a friend. If you have people that you love around you, you will be happy all the time. That's why Nathan loves being around me because he loves me so much.
I'm happy around him and I talk with him. I have a good friend, what else could I want? That's all we need.
Nathan: This country is so much better now that Faiz and his family are here, their presence will pay dividends in any community they reside in. And the fact that I have gotten to be a part of this is a treasure. Faiz has changed my life. He's helped teach me what joy, resilience, gratitude, and love are. I will love him til the day I die. Thank you for letting me tell you about one of the most special people I know.

*Name has been changed.
Informed Consent
Our team members obtain informed consent from each individual before an interview takes place. Individuals dictate where their stories may be shared and what personal information they wish to keep private. In situations where the individual is at risk and/or wishes to remain anonymous, alias names are used and other identifying information is removed from interviews immediately after they are received by TSOS. We have also committed not to use refugee images or stories for fundraising purposes without explicit permission. Our top priority is to protect and honor the wishes of our interview subjects.