Alexandra Acosta · Venezuela
A Young Venezuelan Mother Makes Art and a Better Life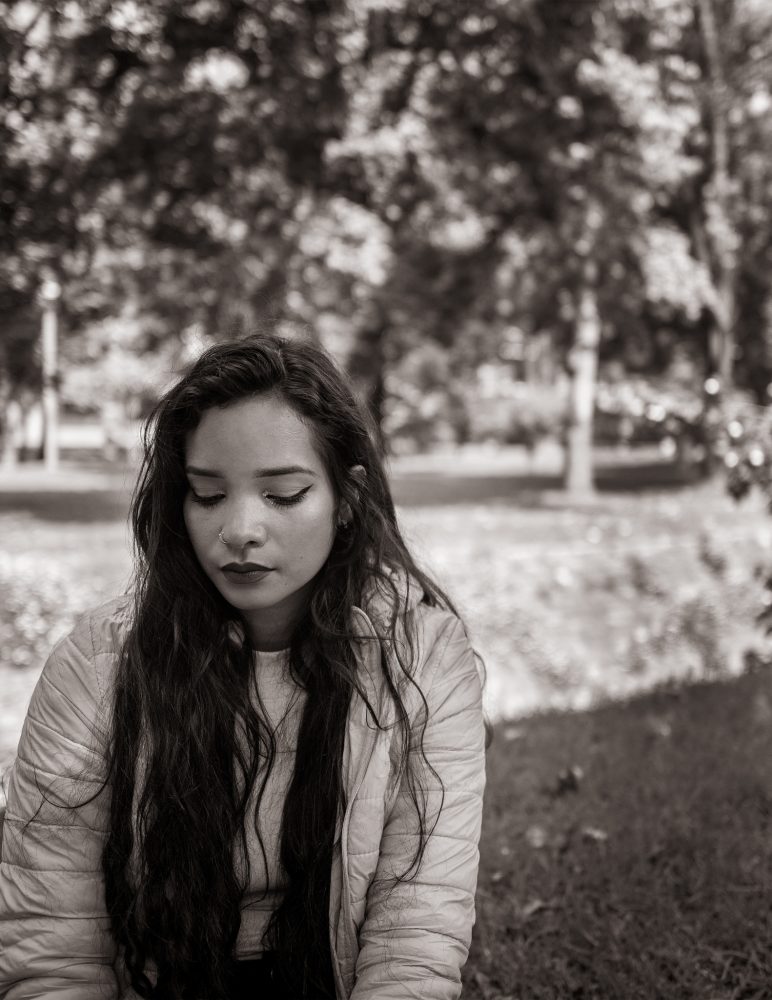 My name is Alexandra Acosta. My mother and siblings still live in Venezuela. My father made a living from apartments he owned. My mother cleaned houses. My childhood was difficult for my mother and me because my father was an alcoholic and illicit drug user. My mother, after living with my father for many years, couldn't continue to allow his cruelty. So, she left him and remarried. But I stayed with my father and faced continuing abuse. My youth was complicated because I experienced mental health challenges and needed medication and mental health therapy.
I must confront the truth of my chaotic youth but sometimes believe I'll never get over the trauma.
My father wanted me to hate my mother and would say she abandoned me. That was not true. At times my mother and I stayed in one room for protection. Because of my father's intolerable abuse, at 13 I tried to commit suicide. At 16 I was living on my own while my mother lived with my stepfather. I was independent then and able to pay my own rent. At 18 I enrolled at a private academy. I was there for two years and paid most of my tuition. My studies included English.
Later I lived with my mother. I've always helped her financially when I could. She too had faced hard times. When I experienced depression, attending church was a blessing because the psychiatrist and pills didn't help. Canela, my dog, was comforting, but my father intentionally let her out and a car killed her.
Pregnant at 19, I had the support of my partner, but I didn't have much money and had to leave school. Initially, I wanted an abortion and my partner agreed. We didn't believe we could afford and care for a child. But I kept the child and realized then that we needed to escape the poverty and chaos in Venezuela. First I wanted to go to Europe. I paid for a passport which was never provided. So, at 19, 8 months pregnant, and married to a Venezuelan, I moved to Colombia, although opportunities there are limited for refugees like me.

I didn't want my child to be born in a dirty and poorly equipped Venezuelan hospital where newborns are put in cardboard boxes without blankets or linens.
It was a difficult three day trip to Cuidad Kennedy, a neighborhood in Bogota. I arrived in April, 2019, where I lived in the apartment my husband had rented. My landlady didn't like me because I was a pregnant Venezuelan refugee. My daughter Allyson was born there in May. The people in the building mistreated me. They believed I was lazy because I didn't work and stayed all day with my baby in the apartment. I'm not a mother who would put her baby in the care of a stranger.
Two years ago we moved to two rooms with a shared kitchen. It's like an apartment in Bogota's Patio Bonito neighborhood. We're treated well there by the landlady and neighbors. There's been a few bad experiences but we've been helped a lot.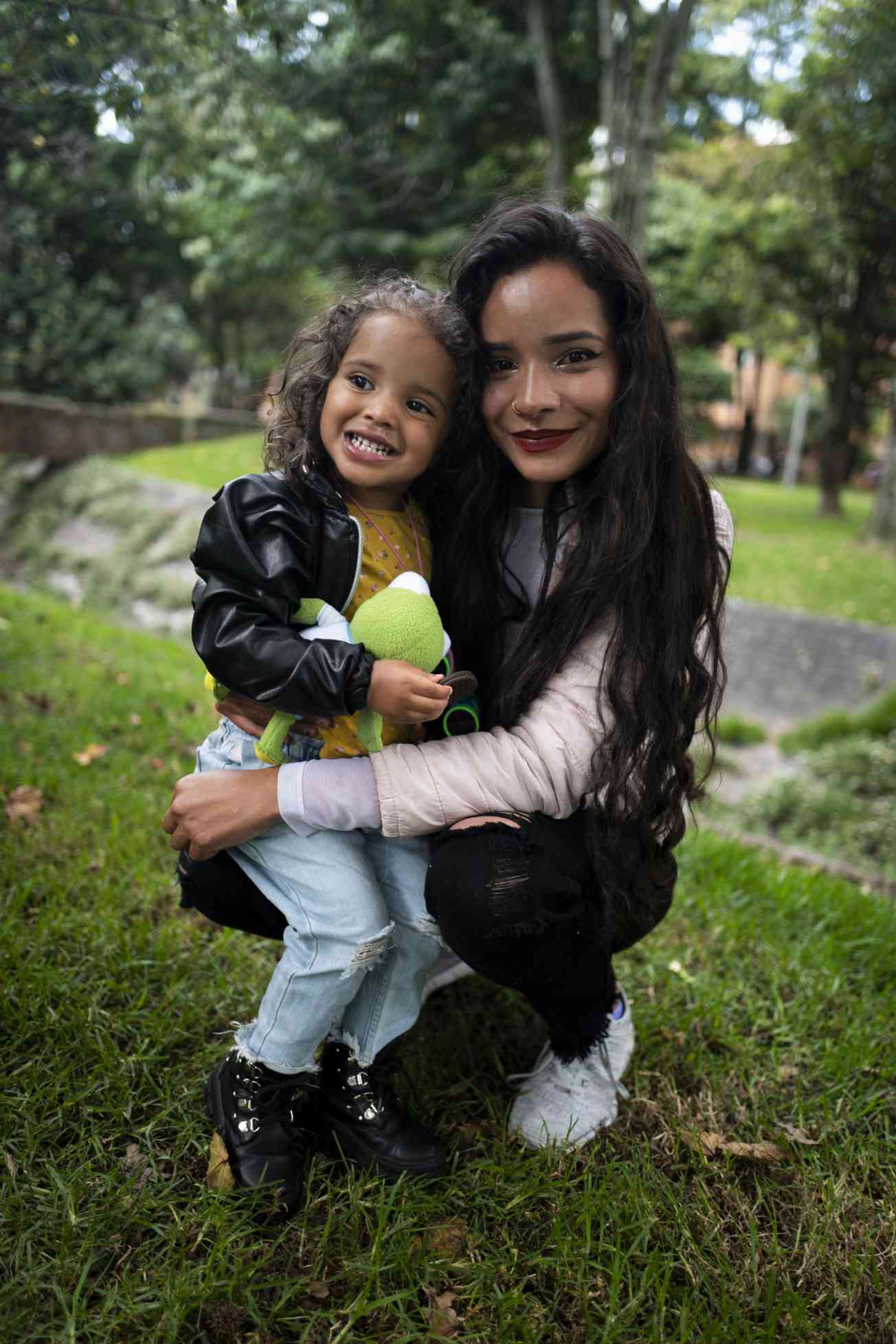 My daughter has brought me happiness and peace. Although I experienced abuse as a child, I show her only love. Allyson is a lovely, intelligent 3 year old, well behaved, not rebellious. She loves me and might cry if I'm not near her. Naturally, that makes me feel guilty. She likes the vegetables I prepare but they're expensive. Allyson enjoys preschool where the teachers are nice and patient.
At times, probably because I've experienced so much unhappiness as a youth, it's difficult for me to express affection for my husband. He always finds work but because he's a refugee may not be paid at all or on time. Recently he was injured at the restaurant where he worked and lost his job. The restaurant refused to pay him for the work he had done or for medical care. So, he left Bogotá for Chile hoping to find a good job. I had to stay behind in Bogotá with Allyson.
While I don't want a job until Allyson starts school, I earn some money selling painted rocks that I create, at Bogota's Virrey Park. I'm artistic but wasn't able to attend art school like I had hoped. My art helps me relax. It's my favorite pastime. Any money earned is used to buy medicine for my mother who has asthma. My mother and family in Venezuela won't be coming to Colombia.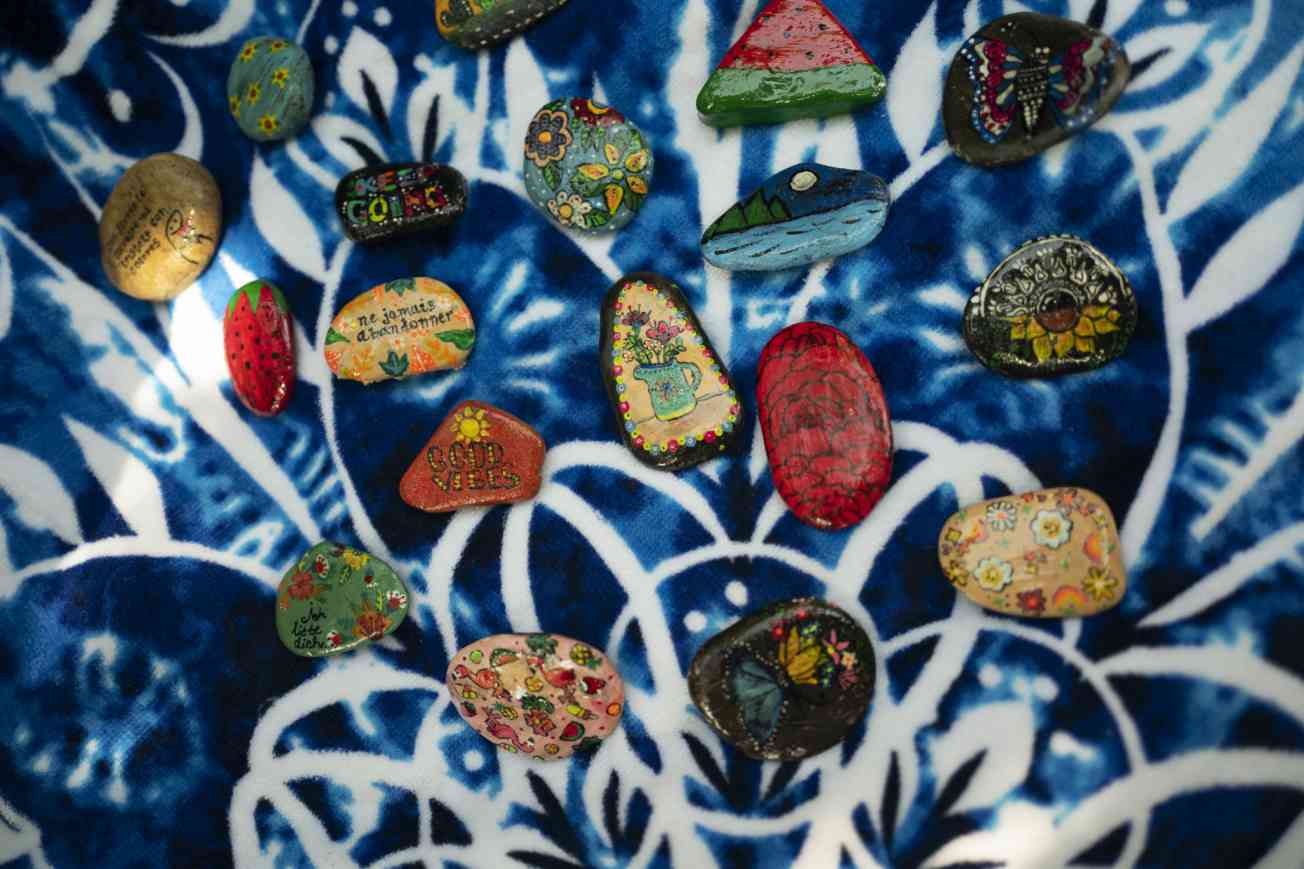 My immediate goal is to buy a house for my mother in Venezuela. Her dream is to own her home. My plans and dreams for the future involve moving from Colombia to another country , possibly Chile, because here, for me, there's limited opportunity. I want to open a business so I can provide a good life for Allyson. If my 20 year old brother goes to Chile I'd like to start a business with him there. I dream too about Allyson's future. Maybe she'll be a teacher, an athlete, or a singer. Whatever she's passionate about and wants to be I'll support. I have faith that all my hopes for the future will come true.
Informed Consent
Our team members obtain informed consent from each individual before an interview takes place. Individuals dictate where their stories may be shared and what personal information they wish to keep private. In situations where the individual is at risk and/or wishes to remain anonymous, alias names are used and other identifying information is removed from interviews immediately after they are received by TSOS. We have also committed not to use refugee images or stories for fundraising purposes without explicit permission. Our top priority is to protect and honor the wishes of our interview subjects.