Refugee Matters Facebook Live Event: Protecting our Asylum System
Wednesday, August 18, 2021
3:00 pm - 4:00 pm PT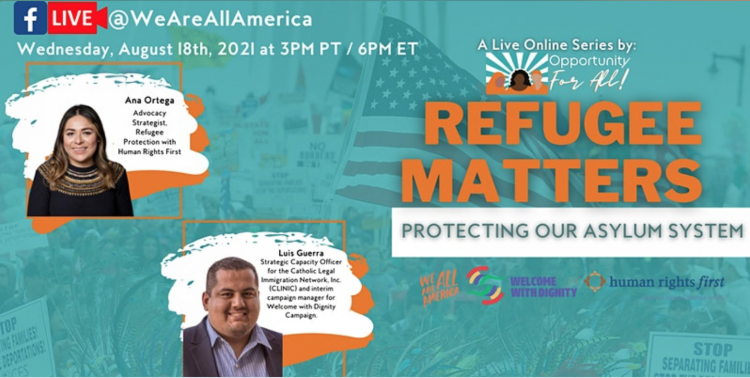 An opportunity to be informed about the current conditions surrounding seeking asylum in the U.S.
Experts in the field will provide an update on what is happening with the asylum system in the US, Title 42, discuss the Welcoming With Dignity Campaign, and the upcoming Asylum Roundtable event. Reminder: this will be a Facebook Live event broadcasted on the We Are All American page.
Featuring:
Ana Ortega, Advocacy Strategist, Refugee Protection with Human Rights First
Luis Guerra, Strategic Capacity Officer for the Catholic Legal Immigration Network, Inc. (CLINIC) and interim campaign manager for Welcome with Dignity Campaign.
You can sign-up here or share the event on Facebook.