LSSNCA's Newcomer Talent Showcase June 16 & Outdoor Kite Flying Event June 18
Wednesday, June 16, 2021
6:00 pm -


Friday, June 18, 2021


7:00 pm EDT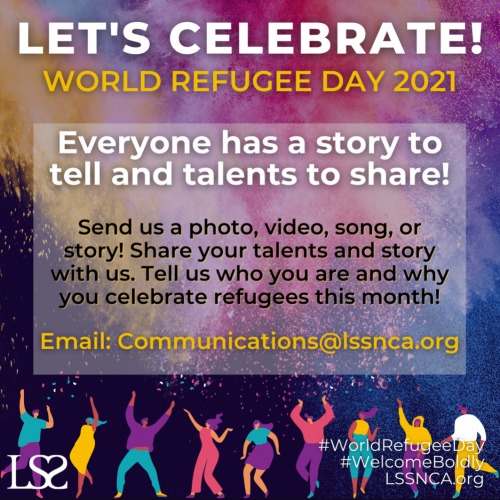 Newcomer Talent Showcase – Wednesday, June 16 @ 7-8 PM: Join us in celebrating expressions of courage and creativity! We'll hear firsthand from two LSSNCA scholarship recipients and be inspired by various talents of LSSNCA clients.
Register here: http://bit.ly/WRDTalent2021. After registering, you will receive an email confirmation with a Zoom link to join the event.
Outdoor Event – Friday, June 18 @ 5-8 PM: Join us in celebrating the gift of community! Enjoy kite flying, live music by La Colombo Percutiva, volleyball and soccer, food and drinks. The event will be hosted on the field grounds of William Wirt Middle School: 6200 Tuckerman St, Riverdale, MD 20737.
Finally, we'd love to hear from you! Send a photo, video, song, or story that shares why you support newcomers and celebrate World Refugee Day. Please send this to [email protected] by early next week. We'd really appreciate it!
Contact: Shelby Kruczek, Director, Community Relations Lutheran Social Services of the National Capital Area (LSSNCA) Email: [email protected]