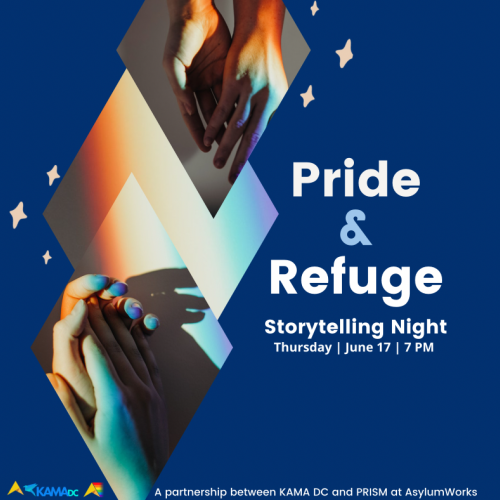 KAMA DC is partnering with PRISM at AsylumWorks for a storytelling night featuring LGBTQ asylum seekers on the theme of pride and refuge.
This month, KAMA DC is honoring two international observances marked in June - Pride Month and World Refugee Day - by partnering with PRISM at AsylumWorks for our Pride & Refuge Storytelling Night on Thursday, June 17 at 7PM. Though these events seem worlds apart, the themes of taking pride in one's self and identity and seeking safety and refuge in one's family, friends, home, or foreign land are prevalent in both. We are so excited to hear from a special group of speakers who will reflect on what both of those themes have meant for them on their journey.
PRISM (Pride Refugee Immigrant Support Meet-Up) is a community group at AsylumWorks, an organization that provides holistic services to support asylum seekers and their families living in the Washington, D.C. region. PRISM is made up of asylum seekers and volunteers working to build an open and affirming peer community where LGBTQ+ asylum seekers feel comfortable just being themselves. To do this, PRISM hosts LGBTQ-focused activities, community-building events, and engages in advocacy initiatives that advance the interests of LGBTQ+ asylum seekers.

The event is free with a suggested donation of $5. All proceeds help provide trauma-informed social services, employment support, and community connections for asylum seekers in the D.C. area and beyond.