New Americans Celebration Livestream from the Georgia State Capitol
Thursday, February 10, 2022
10:00 am - 11:00 am EST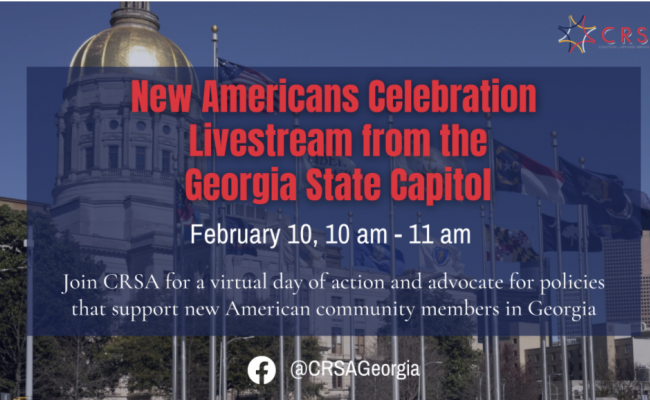 The CRSA Presents Ninth Annual New Americans Celebration

Register HERE to join the Coalition of Refugee Service Agencies (CRSA) on Thursday, February 10, 2022 for the ninth annual New Americans Celebration, live-streamed from the Georgia State Capitol! The New Americans Celebration is the annual day of education and outreach for refugees, immigrants, and welcoming Georgia
community members. Watch the event—starting at 10 am—from the comfort of your home, or host a watch party with your colleagues, friends, students, or faith community. Our friends at Refuge Coffee Co. are hosting an official watch party at their Clarkston location and everyone is welcome!
#NAC22 will include a press conference featuring special guest speakers and an advocacy opportunity where YOU can take action in support of in-state tuition access for Georgia residents, including DACA recipients, refugees, and recently resettled Afghan allies.
We welcome student groups, English language learners, first-time advocates, and especially new Americans to participate in this event by tuning in on February 10—the event will be live-streamed on Facebook. Join us and take action alongside advocates from across the state! We'll share more information on our policy priorities closer to the event.
This event is free, but please register in advance so we can capture your participation in these important advocacy efforts!

Register HERE!