The Healing Power of Self-Expression: Photography by Female Refugee Artists VIRTUAL EVENT
Thursday, February 3, 2022
11:30 am - 1:00 pm EST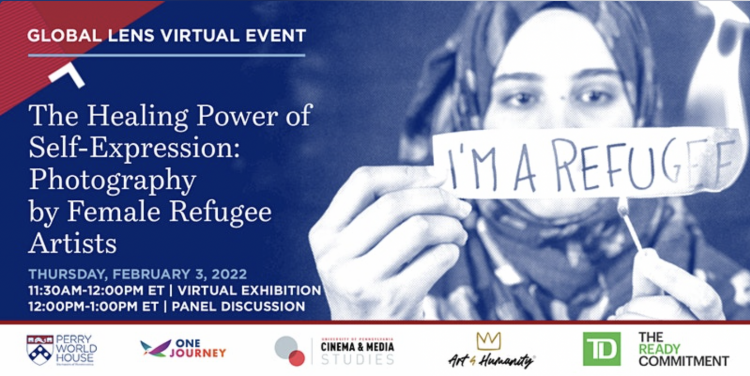 A virtual exhibition and panel discussion presenting images from women and girls living in a Diavata, Greece refugee camp
11:30 AM – 12:00 EST - Art Exhibit
12:00 PM - 1:00 EST - Panel Discussion
REGISTER HERE for this free event.
About this event
Worldwide, over 82 million people have been forced to flee their homes by conflict, persecution, natural disasters, and extreme events. How can the international community help them to rebuild their lives and start to heal from the traumas of displacement?

For One Journey and the Art 4 Humanity Foundation (A4HF), creativity is a crucial piece of this puzzle. In 2020, A4HF started to fund the Photography School, teaching photography to women and girls living in a refugee camp in Diavata, Greece. The program has helped female refugee artists to reclaim their voices, using photography to both express their past experiences and share their hopes for the future. Their work has received major critical acclaim, winning the 2021 Global Peace Photo Award.
On February 3, Perry World House, One Journey, Penn Cinema and Media Studies, Art 4 Humanity Foundation, and TD Bank will host a virtual exhibition displaying photos from the award-winning refugee artists. A panel discussion, which will explore how producing art can help refugees to process their trauma and make their voices heard on the world stage, will follow the virtual exhibition.

SPEAKERS
Mattia Bidoli is a photographer who has collaborated with a range of associations and NGOs, including the United Nations, Cimic, and UNHCR. He uses photography to document and support humanitarian projects at both the national and international levels aimed at defending the rights of children living in situations of extreme poverty and in war zones. Bidoli has undertaken over 40 missions in Syria, Palestine, Kosovo, Lebanon, Belarus, Kenya, Tanzania, Iraq, and Greece. Since October 2020, he has been project leader of the Photography School in a refugee camp in Diavata, Greece, where women and girls living in the camp learn to use photography to tell stories and express themselves.
Kholood Eid is a documentary photographer, filmmaker and educator based in New York who is known for her intimate portraiture. In 2020, Eid was a recipient of the Robert F. Kennedy Journalism Award for Domestic Print, alongside colleagues, for the New York Times series "Exploited." Her clients include The New York Times, National Geographic, TIME Magazine, and The New Yorker.
Masoomeh Mousavi is an 18-year-old refugee from Afghanistan. She has studied photography for a year and wants to become a professional photographer.
Anne C. Richard joined Freedom House in October 2021 as a Distinguished Fellow and Afghanistan Coordination Lead. From 2012 to 2017, Ms. Richard served as assistant secretary of state for population, refugees, and migration, making her the Obama administration's top diplomat on refugee issues as well as a leader on humanitarian and migration policies for the U.S. government. Since leaving the federal government, Richard has taught and lectured at a number of universities, including the University of Virginia, Georgetown University, Hamilton College, and the University of Pennsylvania, where she was a Perry World House Visiting Fellow. During this time, she has continued advocating on refugee issues and advising a wide range of refugee-support efforts. Prior to joining the Obama administration, Richard held senior positions at the International Rescue Committee, State Department, Peace Corps Headquarters, and the White House Office of Management and Budget. Richard has a B.S. foreign service from Georgetown University and a Master's in Public Policy Studies from the University of Chicago.
Masoumeh Tajik is a 28-year-old refugee from Afghanistan who has studied photography since November 2020. She aspires to travel the world, write, and take photos.
MODERATOR
Peter Decherney is Professor of Cinema & Media Studies at the University of Pennsylvania and Faculty Director of Penn's university-wide Online Learning Initiative. He holds a secondary appointment at the Annenberg School for Communication and an affiliation with the Center for Technology, Innovation, and Competition at Penn Law School. He is the author or editor of six books including Hollywood's Copyright Wars: From Edison to the Internet and Hollywood: A Very Short Introduction. Decherney has also written for The New York Times, Forbes, Inside Higher Ed, and other publications. He is an award-winning documentary and virtual reality filmmaker. Since 2015, he has directed a series of documentary and virtual reality films about global migration and on the political role of artists in Myanmar, Kenya, Ethiopia, and the U.S. Decherney has been an Academy of Motion Picture Arts and Sciences Scholar, a fellow of the American Council of Learned Societies, and a U.S. State Department Arts Envoy to Myanmar.