Muslims in China: How borders and ethnicity dictate their story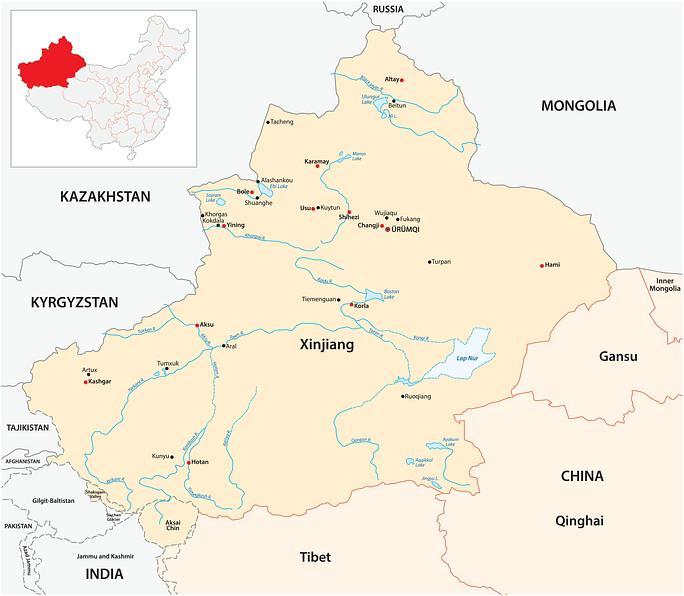 In the winter of 2011, I moved with my family to a small city in Kyrgyzstan named Tokmok. We had lived in the capital, Bishkek, before, so we were at least somewhat familiar with Kyrgyzstan, but not surprisingly, life was quite different outside the capital.

The ethnic diversity in Tokmok was typical for northern Kyrgyzstan. Our street alone (where we were known as "the foreigners") had Dungan, Uzbek, Kazkah, Uyghur,* Chechen, Kyrgyz, and Russian families and their kids would come to our house to play broom hockey with their short Central Asian brooms. My Dungan neighbor would sell me milk for the best yogurt that we've ever had. I shopped in the local bazaar where people of every ethnicity in Tokmok helped me figure out how to cook cabbage, potatoes, carrots, and radishes all winter long in a kitchen with no plumbing at all.

The stories aren't all good from Tokmok. The Tsarnaev brothers who carried out the Boston Marathon terrorist attack in 2013 grew up in Tokmok, just down the street from our house across from School #1. The Uzbek family whose house we rented had fled from their home the previous summer when ethic violence directed at Uzbeks erupted in southern Kyrgyzstan. When I was in Osh in southern Kyrgyzstan in the spring of 2012, I saw the UN tents and tarps still covering homes that had been destroyed nearly two years before. Homes were for sale all over the city as families tried to get a little money to fund their moves somewhere - anywhere - else. Decades of Soviet rule had completely changed the way Islam is practiced in Central Asia.

When the borders between the Soviet Union and China were drawn, maybe Muslim extended families ended up on both sides of the border. Depending on who was in control in each country and their attitude toward Islam or specific minorities, people might cross the border, so far from Beijing or Moscow, as needed or change their ethnicity on their passports to avoid repressive policies. But overall, Chinese policy toward Muslims was a little less harsh than Soviet policies and Chinese Muslims were tolerated.

But all that changed dramatically in the last 15 or so years, and especially in the last 5 years. Dungans (who are more correctly called Hui) Uzbeks, Uyghurs, Kyrgyz, Kazakhs, and other Muslims in China all have faced serious repression from the Chinese government since 2016. While these names aren't familiar to most Americans, they all remind me of people we knew in Kyrgyzstan. Of the Dungan wedding we went to. Of the Uzbek woman whose life history was the basis of my husband's dissertation. Of the Uyghur woman who tutored me in Russian and taught me a new variation of laghman. And of the many, many Kyrgyz friends we have. Tajiks, Tatars, and other Chinese Muslims of different ethnicities have all been affected in different ways.

This repression has touched our lives in Egypt too, since Muslims with Chinese passports who have studied Islam in Egypt have also been targets of China's repression. Al-Azhar University in Cairo, Egypt, has been a global center of Islamic education for one thousand years and Muslims from all over the world study there. Cairo has had a small but vibrant community of Chinese Muslims of different ethnicities, including Uyghurs, but nearly all have left (or been forced to leave) in the last few years. Other Muslim countries from Kyrgyzstan and Kazakhstan to Turkey have been pressured by China to deport Chinese Muslims back to China, leaving those countries with the difficult choice between protecting vulnerable visitors and angering a rich and powerful neighbor.

There are no good answers here, and it's too late for any answers at all for many Muslims in China. But awareness of and advocacy for the real people whose lives have been changed forever is at least something we all can do.

*Since many Americans are unfamiliar with the pronunciation and the news media often uses an incorrect pronunciation based on Mandarin Chinese, here's a link to hear the correct pronunciation of "Uyghur." https://forvo.com/word/ئۇيغۇر/

To learn more about the Uyghur Muslim situation
Other Posts
Just as citizens in Europe and the U.K. have heroically supported displaced Ukrainians by opening up their homes or securing other housing, assisting with school enrollments, employment needs, and language learning, Americans now have the opportunity via the Welcome.us Sponsor Circles program to directly help newly arrived Ukrainians. The United States has committed to welcoming 100,000 Ukrainians temporarily for a period of two-years and the ability to apply for employment authorization in the U.S. as long as they have a U.S.-based sponsor to petition for them.
January 31, 2023
When I was in high school, I was fascinated by geography, and it struck me that there was a highway that I could hop on in my car and drive all the way down into South America. As an imaginative young girl growing up on the Texas-Mexico border, the idea of a road that could take me from my sleepy border town, Laredo, Texas, to the edge of the world in South America, left me awe struck. In high school I learned that this highway is called the Pan-American Highway.
January 9, 2023
Egette was born and raised in a refugee camp in Tanzania, Africa. In 2021, she graduated with a B.S. in psychology from George Mason University. In 2022, she received her MA in psychology with a focus in Cognitive and Behavioral Neuroscience, also from George Mason. She was recently featured in Forbes on World Mental Health Day. She founded Safe Haven Space, to empower and educate refugee families in the US about mental health and wellbeing.
November 30, 2022
Sign up for email updates