Spring 2022 Internship Cohort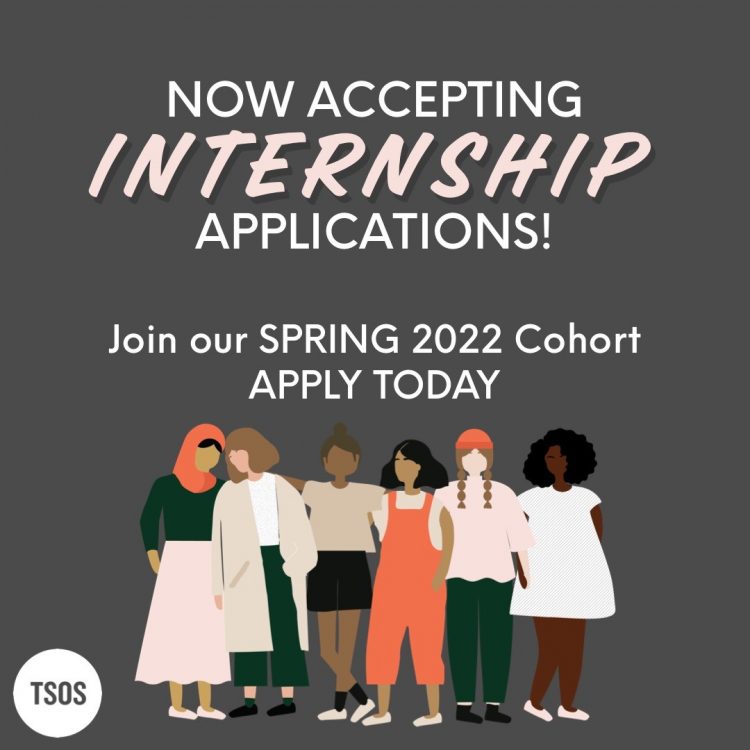 TSOS conducted the Spring 2022 Internship Cohort during the months of March through May. The internships provided a meaningful opportunity to receive technical and professional training while working side by side with experts in their respective areas of work.
At the end of the 8-week internship, each intern learned more about the inner workings of an NGO, gained invaluable insight into the topics of refugees and displacement, and acquired skills they can utilize in their future careers.


IMPORTANT DATES
March 1, 2022 @ 11:59pm PST- Application deadline
March 8, 2022 Internship placements announced via email
March 14, 2022 time TBD -Internship orientation meeting *Required attendance*
Weekly Internship meetings dates/time TBD
May 9, 2022- End of internship meeting, time TBD
TSOS Internships
Internships are virtual and last for 8 weeks.
All internships require a commitment of no more than 5 hours of work per week.
The program is open to anyone age 18 and older who is currently working toward an education goal and/or is enrolled in (or is a recent graduate of) a higher education program.

Interns are awarded a $300 stipend upon successful completion of the program.
AREAS WHERE Interns work
Advocacy - Interns will help with research and legislative tool kit for advocacy purposes.

Archive - Interns will utilize their writing skills to create beautifully succinct and reflective descriptions of conducted interviews. Their work helps honor the refugee's story and assists future archive visitors to conduct meaningful research.
Community Programs - Interns will work with the Director of Community Programs and Community Program Coordinators to help with transcription and translation of interviews conducted locally. Language skills in English and a second language, including but not limited to Spanish, Farsi, Dari, Pashto, French, German, Italian, and Arabic.
Education - Interns need to be Teacher Education (or related) majors. They will write lesson plans and read and review books about refugees.
External Media - Interns will deliver video and written content for the website and social media. They will also strategize to improve viewer engagement with TSOS media.
Partnerships - Interns will work with Executive Director and CFO in legal and accounting work. The intern would be doing legal research regarding nonprofit registrations and assist with the budget reconciliation and potential donor communications.
Public Relations and Marketing - Interns will assist in writing blog posts and other messaging for tsosrefugees.org that increases traffic and is aligned to our SEO audit, analysis, and recommendations. Additionally, the interns will research and develop a database of press contacts in priority metros.
What INTERNS HELP PRODUCE? STORIES SUCH AS THESE
TSOS is able to provide internship opportunities because of donors and subscribers like you. Thank you for your support.
Please consider a donation to help us sustain future cohorts!